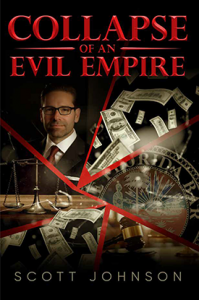 It's difficult for me to explain the value of "Collapse  of an Evil Empire" and exactly why I published it.  The Insurance Journal, specifically its veteran journalist William Rabb, took the time to burrow into my text and to interview me using a Q&A format. His approach, versus the usual press release, not only fostered some introspection but, created an opportunity for me to share how this book is a tool in our battle to protect Florida's hard fought tort reforms.  And, make no mistake, those reforms are under attack.
It's a cautionary and factual true story of Florida's collapsing property market turned inside out.  By using the fortuitous disbarment of a prolific property litigator I was able to deep dive into every material source, media article, allegation, (over 1200 pages of linked backup) creating the perfect handbook for those writing or presenting about the need to protect the tort reforms going forward.
Please enjoy the Insurance Journal's interview by William Rabb.
[Read more…] about Six Years After They Began, Strems' Massive Litigation Actions Detailed in Book