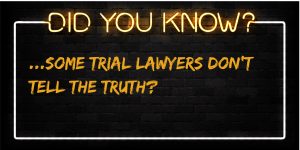 Galloping once again to the cliffs of redundancy, there are a whole lot of folks mischaracterizing Florida's property insurance market reforms.  They know the truth but often don't speak it.  This article is an excerpt from an article written after the first set of reforms in 2021.  It's regarding two trial lawyers who often, well… mischaracterize. And, it's the perfect prelude to my upcoming book "Collapse of an Evil Empire!" which is COMING SOON.
April 12, 2021–Likely you knew the question asked in the title above was rhetorical—"some" trial lawyer's obviously don't tell the truth. But at least one has even been elected to the Florida Senate and others, like Chip Merlin, have long incorporated it as part of their "business plan."  They're becoming more desperate as their pots of gold wilt beneath an avalanche of fact. (See NOTE #1 below)
You've read the data on how Florida's burgeoning lawsuits smother our property reparations system, turn too many trial lawyers into millionaires and drive rate increases now as high as 80% (see p.1 here)–rates which, according to Senate floor debate if not addressed "…will double over three years.
The cost of providing residential insurance in Florida is 36% more per year than for carriers in every other catastrophe prone state in the U.S. The James Madison Institute's Adjunct Scholar Guy Fraker characterized it this way: Florida's 5.8 million policyholders are paying $487.00 per family into a fund owned by fewer than 2000 trial lawyers. And the state of Florida is accepting the consequential risk exposure at no cost, simply for the opportunity to broker the deal.
Check this chart  showing the heart of the problem isn't so much with 2,000 lawyers but mostly with the 25 filing almost half of the total suits. (For an explanation of the chart, see: Collapse of an Evil Empire! Part VII-Market Impact)
Now listen to the former lobbyist for trial lawyers, Senator Gary Farmer (D-Fort Lauderdale) as he intentionally levels false accusations on the floor of the Senate.  Without any evident hesitation, a scintilla of proof or conscience, at least three times, he states as fact that Florida insurers are "cooking their books."
"They are swimming in money" he said and "they move money around." And "they hide behind trade secrets and they hide behind anti-trust laws to hide so much of this money." And…the biggest lie of all: "This crisis is flat out manufactured!"
Senator Farmer stated that "Citizens is one of the worst insurance companies in Florida.  They delay and deny, that's their business model." Then, publicly and on television, he all but accuses Citizens CEO Barry Gilway of dishonest, perhaps criminal, activity.
It's sickening and should make you mad! Or maybe just sad.
Perhaps this is why Senator Jim Boyd used the word "slander" referring to Senator Farmer.  At best Senator Farmers' intentionally false statements reflect someone who, without any facts, has reached a point of desperation.
Fortunately, you can learn the real facts from this blog site and even some media reports, and also by listening to presentations given by Senator Jim Boyd (R-Bradenton) and Senator Jeff Brandes (R-St. Petersburg)–the latter warning that without needed reforms a special session will be called to right the ship.
Don't expect to hear the truth from Senator Farmer or trial lawyers like Chip Merlin whose millionaire's gold pot is being removed.  (See NOTE #1 & Guy Fraker's response to Chip Merlin)
They'll ignore Commissioner Altmaier's latest startling revelations—ones that everyone I've spoken to believe to be the most damning to any argument that distracts.
For details read the letter from Commissioner David Altmaier to the Chairman of the House Commerce Committee, Representative Blaise Ingoglia (R-Springhill).
The numbers come from the NAIC Market Conduct Annual Statement (MCAS) data calls performed in recent years specifically to illustrate Florida's litigation challenges.  And, it shows that in 2019 Florida had only 8.16% of all homeowners' claims opened by insurance companies in the entire U.S. However, in that same year Florida also accounted for 76.45% of all homeowners' suits opened against insurance companies in the U.S.
And Altmaier states it's "…not an anomaly…As the chart below depicts, litigation trends in Florida have been consistently many times higher than any other state."

In fact, Florida residential homeowner lawsuits appear to be proportionally more than 900% higher than the entire rest of the country. And, in direct refutation to the "slander" from Senator Farmer that "Insurance companies aren't paying their claims" Altmaier states…"When comparing the number of claims closed without payment to total claims closed, Florida trends along with the national average."
"Florida's ratio of suits opened to claims closed without payment" he says "is eight times higher than the next highest state at 27.75%.  The state of Connecticut has the second highest ratio of suits opened to claims closed without payment at 3.4%.  The next highest three states are New Jersey (2.45%), Rhode Island (2.23%), and Pennsylvania (1.82%),"
Far from "cooking the books" Florida insurers are being baked by trial lawyers and their elected support staff.
This news must have hit Senator Farmer and Chip Merlin like a cold, wet slap in the face. Unless, of course, they believe all of America's state departments of insurance are cooking their books along with all the insurers who don't even do business in Florida, all as part of a conspiracy with the National Association of Insurance Commissioners.
How shallow and transparent their foolish comments sound compared to Altmaier's irrefutable data.
In addition to answering the question asked at the top of this page, Insurance Commissioner Altmaier's impeccably timed letter means everything you've been hearing about litigation run amok in Florida's property insurance market is utterly true, maybe even worse.
Contact your elected House member. Tell them the recommendations in Commissioner Altmaier's letter regarding the Texas Style tort reforms must be implemented.
Then, sign this petition: https://fltortreform.com/  And, when you do put the following message in the message bar:
"Please support legislation which contains the Texas style tort reforms in SB-76 and as recommended by Insurance Commissioner David Altmaier in his letter to House Commerce Committee Chairman, Representative Blaise Ingoglia."
##end##
NOTE #1:  See the attempt by Chip Merlin to convince others that what's happening in Florida is happening everywhere else and that "rate increases…" are "…due to costly events… and reinsurance." Then read Guy Fraker's patient and factual rebuttal.
For more on Chip Merlin's practice and proclivities enter his name in the blog site search bar upper right.
IMPORTANT: If you enjoyed this post you're invited to subscribe for automatic notifications by going to: www.johnsonstrategiesllc.com.  Enter your email address where indicated.  If you're already on the website at Johnson Strategies, LLC, go to the home page and enter your email address on the right-hand side.  Remember, you'll receive an email confirming your acceptance, so…check and clear your spam filter for notifications from Johnson Strategies, LLC.  ENJOY!
Please view "The Johnson Strategies Story"