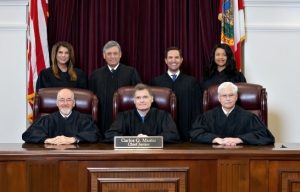 I promise this is my last word on the Strems saga… probably.  Recall my last post "Collapse of an Evil Empire…DISBARRED!" where I wrote that "…based on his cumulative behavior"  the Supreme Court of Florida (SCOF) had finally ruled to "disbar" Scot Strems. I mistakenly said the disbarment was "permanent."
Now comes the Strems team which responded with a petition for rehearing to replace the "non-permanent" disbarment with a 3-year rehabilitative suspension.  They also propose that the requested suspension become effective when Strems was first suspended back in June of 2020.  If granted, Strems could begin practicing law as early as June 9 of this year. 
Once again, The Bar's tenacious and talented prosecutor, Derek Womack, has other ideas. He's already filed a Response in Opposition to the Strems motion reminding SCOF that "A motion for rehearing is not an open invitation for an unhappy litigant or attorney to reargue the same points previously presented." Instead, Womack says, it's required to state, "with particularity," the points of law or fact the court has "overlooked or misapprehended."  And, according to Womack "Mr. Strems does not argue that this Court was mistaken about the facts or Misapprehended…" nor does his team argue the court "…overlooked the law in rejecting a mitigating factor, in finding an additional aggravating factor, or in applying the prior precedent addressing disbarment."
I've had numerous conversations with those familiar with such matters and all indicated the decision to disbar "non-permanently" doesn't make "reapplication" automatic or even easy.  In fact, reapplying is permitted only after five years, in most cases, including this one.
Also… proving you've been rehabilitated is no cakewalk. Rehab includes the kind of rigorous background check my sources referred to as "the mother of all background checks"—addresses, academic records, traffic tickets, litigation, employment, affiliations, bank records, etc. all the way back to law school, which for Strems is 2007.  And, even if rehab is achieved and proven, the court still isn't bound to grant readmission.  The analogy from one source was the parole board in the Shawshank Redemption— "they just keep stamping 'DENIED' and that's it!"
And, of course, Strems would also have to pass the Bar exam, again.
For those arguing he should've just been permanently disbarred, it's true… had his disbarment been "permanent," Strems would likely never work as a practicing attorney again anywhere.  Technically, however, that wasn't an option; "…Although he has certainly engaged in ethically questionable behavior," SCOF declared, "he has not demonstrated that he is not amenable to rehabilitation. Permanent disbarment is warranted only where an attorney's conduct indicates he or she engages in a persistent course of unrepentant and egregious misconduct and is beyond redemption." It's noteworthy that Florida is one of only a handful of states where permanent disbarment is even an option.
Some Perspective— The high courts' non-permanent decision doesn't mean, however, that Strems or any attorney so situated will have an easy time returning to the practice of law, even in 5 years.
Annually The Bar might investigate approximately 3,400 cases of attorney misconduct–only about 200-300 resulting in any disciplinary action.  During a recent period, out of 377 revocations, only 54 were permanent.
According to the Florida Bar's Lawyer Discipline Statistics, from 1992 to 2008 1,179 lawyers were disbarred or experienced some form of disciplinary action resulting in resignation. But only 28 — slightly over 2% — were successful in applying for readmission and went through the entire process.  Another 19 applied and were rejected before even getting started.
In summary—Unless SCOF rules favorably on Strems petition, he has the option to reapply five years from the date of his disbarment as long as he's paid the $45,563.34 judgement covering the costs of the Florida Bar.  Both his reapplication and his willingness to go through the process (after spending 5 years doing something else) is far from assured–98% either don't try or don't make it.
Another Point of View–Frankly, there's also another way to look at it.  Ask yourself, "what difference would it make how the Supreme Court rules on Strems petition?"
Thanks to the legislatures' hard work during the December Special Session, Plaintiff attorneys now play by starkly different rules.  And, in five years those new rules will have created new norms of behavior.
Fact is, the unethical practices Strems and other firms were engaging in are no longer just unethical, some are now specifically illegal.  Heck, with the removal of the big carrots–one-way attorney fees and fee multipliers—and no more AOB and with Bad Faith reform, and a dozen or so smaller improvements… who cares whether one more attorney trolls for billable hours.
That's the beauty of SB-2A and what lawmakers did in the 2023 Special Session reforms!
 My opinion of course.
##end##
IMPORTANT: If you enjoyed this post you're invited to subscribe for automatic notifications by going to: www.johnsonstrategiesllc.com.  Enter your email address where indicated.  If you're already on the website at Johnson Strategies, LLC, go to the home page and enter your email address on the right-hand side.  Remember, you'll receive an email confirming your acceptance, so…check and clear your spam filter for notifications from Johnson Strategies, LLC.  ENJOY!