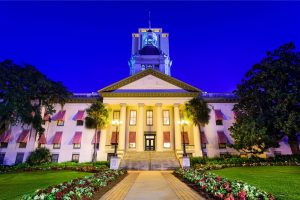 Having addressed the predominant drivers of Florida's litigation economy, lawmakers wrapped up their property insurance reform package last Wednesday and went home. They also provided some relief for Hurricane Ian victims and implemented toll-road discounts for frequent travelers.  (See NOTE #1 below)
For those who deal with the public, especially insurance agents, consultants and the like, I highly suggest you review the Staff Analysis of SB-2A.  Print it out. Keep it handy. Make sure your co-workers have a copy.  It's a detailed synopsis of the rationale and data that drove this important reform effort. You'll also find links to every source document, including OIR studies, Citizens data, litigation reports, media coverage and more. You'll be fully equipped to answer client questions and consumer inquiries regarding the substance in the bill.
This time lawmakers took bold steps to right Florida's sinking ship—a ship laden with premiums three times higher than the national average, rising reinsurance rates, record carrier insolvencies, fraudulent claims, frivolous litigation, and a government pool with the lowest rates in the state.
Litigation is the problem but SB-2A deals with non-litigation cost savers as well. It creates the Florida Optional Reinsurance Assistance (FORA) program, revises prompt payment laws for insurers and expands and modifies OIR's oversight responsibilities. (See NOTE #2 below)
The Litigation Provisions of SB-2A
It ends one-way attorney fees in residential and commercial property insurance policy lawsuits.
It reinstates the civil offer of judgment statute (also known as Proposals for Settlement) and makes attorney fees available for the prevailing party, while also allowing for joint offers of judgment.
It prohibits Assignment of Benefits (AOB) contracts for residential and commercial property insurance policies issued on or after January 1, 2023.
It prohibits the filing of a bad faith lawsuit until a final judgement is issued against the insurance company in the original claim dispute.
It allows carriers to include mandatory binding arbitration in their policies.
It shortens deadlines for policyholders to report a claim from 2 years to 1 year for a new or reopened claim, and from 3 years to 18 months for a supplemental claim.
Litigation problem solved! If the above reforms survive legal challenges, trial lawyers will be on the hunt for other litigation schemes, perhaps in other lines. While sad, it's a reliable sign of success.
The remaining problem is Citizens–which often charges about half the admitted market, and 80% of its' own actuarially indicated rate.  Fortunately, lawmakers also took the gutsy step of making Citizens less competitive with private carriers and less burdensome to private policyholders via assessments.
The Citizens Provisions of SB-2A
It increases the eligibility threshold for Citizens renewal personal lines policyholders. Under the bill, such policyholders are ineligible for Citizens coverage at renewal upon receiving an offer of comparable coverage from an authorized insurer for a premium that is not more than 20 percent greater than the Citizens renewal premium.
It increases the eligibility threshold for Citizens new policies for commercial residential coverage from 15 percent to 20 percent, which is consistent with the current threshold for new policies of personal residential coverage.
It amends provisions on take-out offers and the Citizens clearinghouse to conform to the increased eligibility thresholds contained in the bill.
It requires that Citizens' rate be non-competitive with the approved rates charged in the admitted market, in addition to being actuarially sound.
It increases the potential rates charged for coverage on risks that are not primary residences.
Defines the term "primary residences."
Repeals language allowing policyholders to return to Citizens as a renewal if the take-out carrier increases their rates above the Citizens' glidepath.
Combines Citizens three accounts into a single account. A single account structure will allow Citizens to access its entire surplus to pay claims. Currently, surplus in a particular account may only be used to pay claims in that account. The bill also revises the Citizens policyholder surcharge imposed in the event of a deficit from 15 percent per account (maximum 45 percent) to 15 percent for the single account.
Provides that Citizens personal lines residential policyholders must secure and maintain flood insurance that meets certain requirements as a condition of eligibility for Citizens coverage
Frankly, the surprise last minute entry to the Citizens proposal was the last one, the requirement to purchase flood insurance.  At least it's the one I'm hearing the most about. Questions range from whether policyholders and/or applicants to Citizens will be upset and whether there'll be an additional burden on agents who send policies to Citizens.
The answer to both questions is "yes" followed by a big "BUT."
The legislature's graded approach allowing those with smaller homes to put off the purchase of a needed coverage until March 1, 2027, will materially reduce consumer push back, in my opinion. And only those in Special Flood Hazard Areas (SFHA), who have (or should have) it already are the ones immediately affected.  SFHA residents without mortgages and no flood coverage but who've experienced or seen Ian's wrath have probably secured the coverage by now, anyway.  Fact is, everyone should now understand that if you live on Florida's coast and don't have flood coverage you essentially have no hurricane protection. (See Note #3 below)
So, what's missing at this point?  Well lawmakers didn't address the issue of Actual Cash Value for roofs. Nor did they do anything to stop the door-to-door antics of roofers, mostly from out of state.  Or public adjusters, many of whom are also from out of state (and unnecessary) and licensed to descend on Florida's stricken areas.  Nor did they address the criminal activities of too many water mitigation firms that are unlicensed, unregulated, and often in cahoots with attorneys looking for proxy solicitors.
Fixing those problems will be part of the next step in shoring up Florida's property market.  A step to be taken during the 2023 Regular Session, convening at noon on Monday, April 10, 2023.
##end##
NOTE #1– The House voted 84-33 with most Democrats in opposition.  The Senate voted 27-13 in favor with two Republicans joining all but one of the Democrats in opposition. On motion by Senator Boyd, SB 2-A was certified to the House. The vote on passage: Yeas—27.  Nays—13: Senators Berman, Book, Davis, Ileana Garcia (Republican), Erin Grall (Republican & trial lawyer), Jones, Osgood, Pizzo, Polsky, Powell, Rouson, Thompson, and Torres.
NOTE #2– Reinsurance: SB-2A establishes a second optional hurricane reinsurance fund (The Florida Optional Reinsurance Assistance Program) for carriers, offering rates of 50% to 65% of the cost of on-line rates, while maintaining the Reinsurance to Assist Policyholders (RAP) program created in the May special session.
Claims Handling: SB-2A reduces from 90 days to 60 days the time insurance companies have to pay or deny a claim, unless extended by regulators; and reduce from 14 days to 7 days the time a carrier has to review and acknowledge a claim communication and begin an investigation, along with other time requirement changes.
Enhanced OIR Regulation: SB-2A allows OIR to withdraw approval of policies with an appraisal clause for companies that routinely invoke it; allows OIR to do market conduct exams after a hurricane on those companies in the top 20% of claims filed or DFS complaints and to include an examination of their MGAs; and requires companies to report monthly numbers of claims opened, closed, pending, and those seeking alternative dispute resolution to report which type.
NOTE #3—Lawmakers provided a timetable for the purchase of flood coverage for Citizens policyholders as follows:
For risks located in areas designated by the Federal Emergency Management Agency as special flood hazard areas, flood insurance must be secured for new Citizens policies with an effective date on or after April 1, 2023, and at renewal for Citizens policies that renew on or after July 1, 2023.
For all other risks, the requirement to obtain flood insurance at policy issuance or renewal is effective:
March 1, 2024, for policies insuring property to a limit of $600,000 or more.
March 1, 2025, for policies insuring property to a limit of $500,000 or more.
March 1, 2026, for policies insuring property to a limit of $400,000 or more.
March 1, 2027, for all other policies.
Please view "The Johnson Strategies Story"
IMPORTANT: If you enjoyed this post, you're invited to subscribe for automatic notifications by going to: www.johnsonstrategiesllc.com.  Enter your email address where indicated.  If you're already on the website at Johnson Strategies, LLC, go to the home page and enter your email address on the right-hand side.  Remember, you'll receive an email confirming your acceptance, so…check and clear your spam filter for notifications from Johnson Strategies, LLC.  ENJOY!