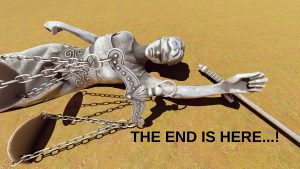 Lady justice has two hands–one holds the scales of justice, the other a sword.  It's taken over two full years, but…an end is finally here to the saga penned the "Collapse of an Evil Empire."  It arrived yesterday (December 22, 2022) with a Supreme Court decision disbarring Scot Strems from the practice of law.
Florida's high court approved, in part, Referee Dawn Denaro's findings of misconduct by Strems in two cases.  It also approved her sentences of a public reprimand for failing to communicate with a client and the suspension of his license for two years.  It also approved her findings of fact in both cases, but…with one notable exception as to sentencing— "…we disapprove" the justices said "… the referee's recommendation as to discipline; instead, we disbar Strems based on his cumulative misconduct."
Though the disbarment isn't "permanent", it's a shockwave verdict, in my opinion, and the perfect culmination of good work by the anti-frivolous-litigation forces in Florida's beleaguered property market.  The Special Session litigation reforms implemented by lawmakers just last week spawned speculation that the courts' decision, if rendered in Strems favor, might not matter that much.  They figured how much damage could be done without AOB?  And why would any attorney act similar to Strems without 1-way attorney fees and no fee multipliers as carrots or when bad faith actions are prohibited without a prior final judgement against the insurer?
But, I believe the impact of this decision, in tandem with the legislature's bold actions, will feel like a tsunami to those firms inclined to behave similarly.  Lawyers respond well to "sticks and carrots." Thanks to lawmakers all the carrots have been removed.  And now, thanks to the supreme court and the Florida Bar, a once fragile stick has been replaced with a guillotine.
The purpose of attorney discipline is threefold: (1) to protect the public from unethical conduct without undue harshness towards the attorney; (2) to punish misconduct while encouraging reformation and rehabilitation; and (3) to deter other lawyers from engaging in similar misconduct.
Florida's high court did not waiver:
"First, the public needs to be protected from Strems' unethical conduct, evidenced by what appears to be SLF's practice of interpreting an ambiguously drafted fee agreements in its favor, as well as its then-ongoing failure to comply with court orders and procedures.
Second, Strems must be disciplined for his misconduct, which continued into the disciplinary proceedings.
Third, other lawyers must be deterred from engaging in similar misconduct. Disbarring Strems will place other lawyers on notice that this Court will not tolerate similar misconduct." [Emphasis Added]
The two dozen or so plaintiff firms responsible for almost 80% of Florida property suits will take note, bet on it. So will insurers.  After all, even though Strems firm may have managed nearly 10,000 suits simultaneously, on occasion it was still outpaced by other firms.
Good work shutting them all down!
Now it's time to focus on finishing the job during the 2023 legislative session by eliminating the abusive solicitations and practices of public adjusters, water mitigation firms and roofers.
##end##
For those who would like a single location to learn from the Strems cases and have access to the filings, peripheral information and my opinion articles, please see my online library for the compendium of posts on "Collapse of an Evil Empire."
To review the Supreme Court's decision: http://johnsonstrategiesllc.com/wp-content/uploads/downloads/2022/12/STREMS-OPINION.pdf
IMPORTANT: If you enjoyed this post you're invited to subscribe for automatic notifications by going to: www.johnsonstrategiesllc.com.  Enter your email address where indicated.  If you're already on the website at Johnson Strategies, LLC, go to the home page and enter your email address on the right-hand side.  Remember, you'll receive an email confirming your acceptance, so…check and clear your spam filter for notifications from Johnson Strategies, LLC.  ENJOY!