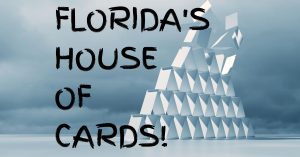 SB-1728 passed the Florida Senate last Thursday, but…according to numerous reports, it's stalled in the House and may possibly die there.  Thus signaling our property markets last breath and the collapse of the fragile House of Cards lawmakers created after the '04/'05 storms.
Lawmakers knew at the time what they were doing almost 17 years ago. Many even said so. They perhaps didn't realize that the tipping point of Charlie Crist's plan (HB-1A) would not be bad weather, but greed…exemplified in the partnering of  self-serving litigators with aggressive, often disreputable, solicitors.
A deluge of ignored tell-tale signs are now upon us; including prodigious rate increases–carriers filing multiple requests annually, some with a cumulative impact over 80%.  Others recently requesting well over 100% in a single filing; pristine data forcing OIR's reluctant approval and, on more than one occasion, ordering implementation of a larger than requested increase.
Major coverage erosion for consumers, wherever the fraud takes hold, mostly on non-weather water claims. Mandatory water deductibles of $2500, cosmetic damage exclusions and no coverage after 21 days.  At least one company that doesn't cover water losses at all.  And plenty that won't accept a new policy from anyone that's been non-renewed for any  reason, even with a brand spanking new roof.
Actual Cash Value on roofs over ten years old. No coverage for any home with a roof over 15 years. Even Citizens won't cover older roofs without an inspection certifying it has a 3-year life expectancy.
No coverage. No new policies.  And no solutions.
Citing the surge in frivolous litigation Progressive Insurance announced it was dropping 56,000 policies—this after net income dropped 44% from the previous year. (See NOTE #1 below)
United Property and Casualty, with more than 180,000 policyholders, is convinced that selling more policies, without reforms, will increase its losses even more–it stopped the bleeding by not accepting any new policies after January 1, 2022.
In late January, TypTap sent a memo to its' agents thanking them for  "… unprecedented growth in 2021." Then followed with "As a result… we are pausing our Homeowners … for the entire state of Florida effective February 28, 2022."
People's Trust is closing off new business in eight counties.
Farm Bureau has lost money for seven straight quarters totaling almost $50 million.
St. Johns, Florida's eighth largest writer with 160,000 policies told its' agents it "… has made the difficult decision to suspend all new business writing statewide as of February 15, 2022."  Too late! St. Johns went bankrupt ten days later.
Lighthouse announced it "… has made the difficult decision to suspend new business writing for all products in Florida, effective end of business today."
Two other carriers, Centauri Specialty and Cypress Property & Casualty are also filing for rate increases, of 28.3% and 26.3%, respectively.  (See NOTE#6 below)
The Florida Insurance Guaranty Association approved a $190 million assessment on  homeowners.  That's in addition to its' previous assessment of  $168 million.
The Insurance Information Institute (III) says only three of 52 Florida insurers actually made a profit last year, the rest lost over $1.6 billion.  And, again, of the nearly 100,000 annual property lawsuits "more than 90% are considered frivolous" according to III.
Several rating downgrades of late. In addition to St. Johns and Avatar this past week, Joseph Petrelli, Demotech's president, said: "There may be six more… out there."
Can you imagine hundreds of thousands of homeowners in default of their mortgages scrambling to get coverage in Citizens, and some not being able to?
Citizens, the safety valve, will continue raising its' rates the annual max of 10% (when 80% is indicated) which taken cumulatively leaves its' policyholders with double the premiums in less than 5 years.  Over 800,000 Floridians now depend on Citizens. Worse, it's besieged by 5,000 new applicants every 28 business days and will be over a million by years end.
Two storms could easily (and quickly) annihilate Citizens $6.4 billion surplus forcing all Florida customers to pay surcharges. Imagine the thousands now moving to Florida forced to rent instead of own their dream home.  Then, being surcharged 45% on their auto policies–to cover Citizens deficits.  Can't wait to hear about that on CNN!  (See NOTE #4 below)
And for what? Of the $12 billion in insurance premiums paid by Florida property owners each year, 35% — or about $645 per policy — went to attorneys. This year it's closer to $800 per policy. (See NOTE #2)
Now, it appears lawmakers may be going home early, to come back next Monday to exclusively address the budget, not the insurer solvency crisis or SB-1728.
House Speaker Chris Sprowls (R-Palm Harbor) said recently that enough time hasn't passed for last year's reform's to work.  "The industry…said it takes 18 months for results to show up. I'm taking them at their word."
He's right, insurers did say that.  And it's true…it does take about 18 months. BUT…that assumes the reforms are being followed and were fully implemented. A major piece of SB-76 pertaining to roofing solicitations is under a court ordered injunction and thus, roofers continue mining neighborhoods for claims–hundreds, perhaps thousands per week.  (See NOTE # 3 below)
An exaggeration? Take a look at this Facebook post. It's a door-hanger with a sticky note that reads…
"Sorry I missed you! We are replacing 100+ roofs per week and YES insurance is paying for all of them! ?
If last year's reforms just needed more time to work, things wouldn't be getting worse.  After SB-76 passed one attorney issued 2,000 NOIL's (Notice of Intent to Litigate) IN JUST THREE MONTHS!  The average number of suits for all the other 49 states combined is only 730, FOR AN ENTIRE YEAR!  Also, see "Lawmakers at odds over property reform as sessions end looms."
AND NOW…the level of litigated claims is exploding again. Wesley Todd, CEO of CaseGlide said suits jumped 37% in January for Florida's largest carriers–amounting to nearly 4,600 total in 30 days. Again, that's 1 month yielding six times the national average for an entire year.  This isn't a problem solved by the passage of time.
A number of South Florida Senators actually voted against SB-1728. This despite the evidence showing that Miami-Dade had the largest AOB increase again in January, at 23% of new litigated cases; Broward followed at 17%; and Palm Beach County was at 6%–that's after the reforms were effective, July 1.
All but one of the top 17 largest insurers showed an increase in litigation in January, according CaseGlide data.  More alarming though, is that five insurers experienced more than a 40% month-over-month increase.
Florida is responsible for nearly 80% of America's property litigation. Since 2013,  91% of the $15 billion paid out in Florida claims went to attorneys (or about $13.6 billion) leaving a scraggly 8% for property owners.  Whatever!  (See NOTE #5 below)
During a press briefing Speaker Sprowls also indicated he doesn't believe the provision in SB-1728 dealing with ACV on roofs is necessary.   "We did a lot last year. We're still in litigation on it."  He said it's the "…knock at the door…that's where the fraud comes in…much like we have restrictions for lawyers for inappropriate solicitations for plaintiffs…"
Wish it were that simple. True, there is a lot of fraud being committed by too many roofers knocking on too many doors.  But the knocking is both enabled and incentivized by too many attorneys assisting with suits that force insurers to pay for normal home maintenance.  The ACV provisions and the roof replacement schedule in SB-1728 address the root cause–which is the exploitation of a homeowners natural desire to avoid the cost of a large roof replacement.
Mr. Speaker, you're right, lawmakers "did a lot" last year, but.. the reforms aren't working as intended. Things are getting worse. Consumers are suffering. More needs to be done.
The eleven Senators who voted against SB-1728 will have the burden of explaining their decision to their constituents. If House members don't receive the same privilege any collapse in Florida's House of Cards will rest squarely on Florida's House of Representatives.
##end##
NOTE #1: Specifically, Progressive is not renewing coverage for homes with roofs older than 15 years. The decision comes after Progressive changed its guidelines – from requiring composition shingle roofs to be 15 years or newer for coverage, to requiring all roofs to be 15 years or newer.
NOTE # 2: Since 2013, $15 billion has been paid out in claims resulting from lawsuits, with 21% of the funds going to defense attorneys, 71% going to plaintiffs' attorneys and policyholders picking up only about 8%.
NOTE #3: While the litigation crisis began with water restoration companies in South Florida a decade ago, roofing contractors have been driving losses in recent years.  Bob Ritchie, president & CEO of American Integrity Insurance Group says "…lawsuits have increased 1,200% over the past five years and 75% of all roofing claims result in lawsuits."
NOTE #4: Currently, the insurance industry expects to pay out $250 billion if a major Category 4 or 5 hurricane strikes in the right place.  The Florida Chamber reports that total increases to $1 trillion if the state adds four million more residents.
NOTE #5: Beyond CaseGlide's data, there's the bigger picture.  In 2021, 76,526 property insurance lawsuits were filed in Florida, an 18% increase from the 64,843 in 2020.  Claims with lawsuits cost almost five times more than those without.  According to the Florida Office of Insurance Regulation, the average non-litigated claim is $11,000 compared to $54,000 for those with lawsuits.  Yet only about 8% of the average litigated claim dollar reaches homeowners who file claims.  Most of the rest of the money goes to the lawyers.  And the real damning evidence of our out-of-control litigation problem:  NAIC data from our Insurance Commissioner David Altmaier shows that Florida has 8% of all homeowners' claims in the U.S., yet 76% of all homeowners' claims lawsuits.
NOTE #6:  Centauri was purchased by Applied Underwriters in 2020, thus improving its' financial status substantially.  Also, according to Centauri, it files the full indicated rate need in every market, allowing it to remain fiscally sound.  The 28.3% increase was for its Dwelling program, only about 4% of its overall book.
Please view "The Johnson Strategies Story"
IMPORTANT: If you enjoyed this post you're invited to subscribe for automatic notifications by going to: www.johnsonstrategiesllc.com.  Enter your email address where indicated.  If you're already on the website at Johnson Strategies, LLC, go to the home page and enter your email address on the right-hand side.  Remember, you'll receive an email confirming your acceptance, so…check and clear your spam filter for notifications from Johnson Strategies, LLC.  ENJOY!