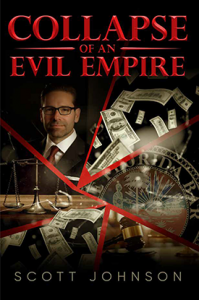 It's difficult for me to explain the value of "Collapse  of an Evil Empire" and exactly why I published it.  The Insurance Journal, specifically its veteran journalist William Rabb, took the time to burrow into my text and to interview me using a Q&A format. His approach, versus the usual press release, not only fostered some introspection but, created an opportunity for me to share how this book is a tool in our battle to protect Florida's hard fought tort reforms.  And, make no mistake, those reforms are under attack.
It's a cautionary and factual true story of Florida's collapsing property market turned inside out.  By using the fortuitous disbarment of a prolific property litigator I was able to deep dive into every material source, media article, allegation, (over 1200 pages of linked backup) creating the perfect handbook for those writing or presenting about the need to protect the tort reforms going forward.
Please enjoy the Insurance Journal's interview by William Rabb.
Six Years After They Began, Strems' Massive Litigation Actions Detailed in Book
By William Rabb | October 25, 2023
The story of disbarred Florida plaintiffs' attorney Scot Strems has been told, in bits and pieces, in this publication and others over the last six years. But the saga and Strems' alleged actions and the havoc they caused in the Florida property insurance industry continue to be mind boggling – and fascinating in many ways.
Strems and his associates reportedly employed many tactics, including recruiting public adjusters, contractors and other "feeders" that, at one point, led to as many as 10,000 lawsuits against property insurers, many of them on the same claim, some without insureds' approval. The mismanagement and improper actions in many of those lawsuits earned Strems the ire of an entire industry, not to mention rebukes from a number of Florida judges, the Florida Supreme Court and the Florida Bar.
One person well-known in the Florida insurance arena followed Strems more closely than most others, writing dozens of blog posts since 2017. Scott Johnson, an insurance industry educator, consultant and former regulator, has now published a book of his blogs, titled, "Collapse of an Evil Empire," available on his website.
Johnson, who has worked with the property insurance industry for five decades and has published four other books on the business, credits Florida Bar prosecutor John "Derek" Womack with starting the scrutiny into Strems' allegedly unethical practices, after reading one of Johnson's early blogs on Strems.
Insurance Journal recently spoke with Johnson about his book, about Florida's insurance problems, and about what happened in the Sunshine State through the years that allowed Strems and other attorneys to abuse the legal system, which helped bring a trillion-dollar industry to unprecedented depths.
IJ: Tell us about the book and why you published it.
Johnson: It's a compendium of articles about Florida's litigation nightmare. It all started with a piece I published in 2017 that, according to the Florida Bar, triggered its investigation into Scot Strems. Three years later the Bar moved to disbar him, and I began following every hearing, researching each allegation and cataloguing it all on my website. When the hearings were over and he was disbarred, it dawned on me I had something very unusual, something no one else had – a detailed behind-the-scenes accounting, proving Florida's home insurance system was being brought to its knees by fraud and greed. I heard from friends that it would make a good book.
IJ: How, in your opinion, did Florida let itself get to the point that a few lawyers could wreak such havoc with the entire property insurance industry
Johnson: That's a great question, but it's not just a few lawyers. And it's not just one thing. It's a combination of things, I think, including legislative inaction, or outright obstruction from trial lawyers in key positions, some of which are exposed in the book. It's also court decisions, including ones from the Supreme Court.
But the problem is still a little more complicated. I explain in the foreword that the Florida Bar can quickly move against attorneys convicted of crimes or who may have absconded with funds from vulnerable clients. But it is not as resourceful or aggressive in prosecuting those who abuse the court system or commit ethical violations—such charges are more interpretive by nature and can go unreported by clients who themselves may be looking for unjust enrichment.
This story shows the immense burden of time and risk involved in such prosecutions. Moreover, it illustrates how extremely destructive the transgressions can become to the rest of society when left unchecked.
IJ: Did the Florida Bar's disciplinary action and the legislative reforms in the last four years go far enough to deter similar behavior in the future?
Johnson: Yes, I absolutely believe so. Here's another angle. The Supreme Court stated in its decision that the disbarment was, in part, intended to discourage similar behavior by other attorneys. That's good. But they didn't specifically identify the things Strems was doing. My book does that for everyone –attorneys, insurance agents, carriers, public adjusters, whomever.
I'd also like to say that there are 6,000 trial lawyers in Florida and every one of them should have this book in their libraries. In my research I talked to trial lawyers. One even called me at home one night after reading one of my articles. It's easy to get caught up focusing on billable hours to the exclusion of all else. This book has many cautionary elements that could spare them a lot of trouble someday.
I feel obligated to say that we have the Florida Bar to thank for this, especially Derek Womack, the prosecutor in this case. That's why I dedicated the book to him. This was a deep dive into a world we normally don't get to see. Lawyers and insurers get together and negotiate settlements and the world never understands what's behind the scenes. "Collapse of an Evil Empire" isn't just one man's opinion. It includes startling sworn testimony, and excerpts from depositions under penalty of perjury.
And it's not just one trial lawyer, as you'll see. It's large-scale chicanery between trial lawyers, public adjusters, so called claim consultants, roofers, and water firms.
IJ: What else, in your opinion, needs to be done?
Johnson: Reforms are needed in the area of public adjuster fees, regulation of water firms and helping consumers find out which attorneys are misbehaving. I've covered these things in my blog over the years, but nobody seems to care. Maybe now the industry can devote some attention to these issues as well. All while protecting the gains that were just made.
IJ: Have you heard anything from Scot Strems?
Johnson: No, I guess I didn't expect to. It's understandable that he's kind of hard to reach. But I'd like to talk to him, maybe interview him. He could say whatever he wants, and I'd publish every word verbatim. Other than the legal pleadings, his personal side of this story has never been told. (For the record, Insurance Journal has been unable to reach Strems, through emails or through contact with his attorneys.)
IJ: Anything you'd like to add?
Johnson: Just this. Every time someone complains about their homeowners insurance premium, every time there's a rate increase, or someone doesn't get their claim paid, whatever the case may be, some of the news media and social sites like Facebook and LinkedIn are besieged by trial lawyers, public adjusters and contractors extolling alleged evils of the recent reforms. Remember in the month of March, after the passage of the final round of tort-reform legislation, an estimated 300,000 new suits emerged before Gov. DeSantis could sign the bill. This was an attempt to be grandfathered in and avoid the reforms. That's proof the reforms will work, in my opinion, and I hope my book helps get the word out.
##end##
IMPORTANT: If you enjoyed this post you're invited to subscribe for automatic notifications by going to: www.johnsonstrategiesllc.com.  Enter your email address where indicated.  If you're already on the website at Johnson Strategies, LLC, go to the home page and enter your email address on the right-hand side.  Remember, you'll receive an email confirming your acceptance, so…check and clear your spam filter for notifications from Johnson Strategies, LLC.  ENJOY!
Please view The Johnson Strategies Story