No need belaboring details of what Universal Property & Casualty Insurance Company (UPCIC) has been doing–waiting until after a loss to underwrite, cancelling policies back to inception for alleged "material misrepresentation" for reasons unrelated to the claim or any attempt at fraud by the claimant. 
I've written two blogs with specifics–the first, "A RUBIKS CUBE" gave the "con's" as described by Robin Westcott the Insurance Consumer Advocate (ICA) and the "pro's" given to me by the carrier. I cited first-hand agent accounts of egregious customer treatment (I now have more), but was careful to give UPCIC the benefit of the doubt.  After all, as the company stated, what it was doing was…"legal"!
By contrast my second blog urged UPCIC to stop the practice even if lawmakers didn't pass a law preventing it–a conclusion I reached after realizing that even if the price, coverage and financial stability was stellar, I would not purchase my insurance from a carrier acting similarly.
I further concluded…
Sometimes… financially sound, legal underwriting, even the kind that helps responsible consumers pay less,  isn't worth the bad press and the unintended consequences of legislated solutions.
Now, after a Market Conduct Review the OIR announced it is fining Universal $1.26 million and ordering it to submit reports, institute corrective actions and pay restitution to those it has harmed. (See NOTE #1 below)
The OIR order reveals that UPCIC may have culpability on other fronts: delaying the payment of claims by unnecessarily requiring multiple notarized proof of loss statements, failing to provide proof of adequate notice of cancellation and/or non-renewal (See NOTE#2 below), issues regarding reinsurance purchased from a captive reinsurer and failing to provide a database of complaints pursuant to a consent order dating back to 2009. 
More troubling was reference to intercompany irregularities that appear to allow "…the occurrence of losses at UPCIC and profits in the affiliates."  The company claimed the losses were due to declining premiums and increased fraud, and its president and CEO, Sean P. Downes emailed agents the OIR allegations were "…incorrect in many important respects…"
But, the OIR also looked at UPCIC's investment activities and, according to the order, found the company paid $2.3 million in brokerage commissions for around 5,700 executed trading transactions. By itself not a problem; however, nearly 50% of the trades involved companies in mining and precious metals and at least 23 so called "spike days", seemed timed with quarterly financial reports to regulators and rating agencies. Implication–investments were moved to safer instruments in order to deceive regulators and/or reporting agencies.  And finally "…at the time of examination, UPCIC's investment functions were solely handled by then President and Chief Executive Officer, Bradley I. Meier."
Will this impact UPCIC's policy count?  Not likely from what I hear.  Agents tell me the company is consistently among the lowest priced residential products  in their office. One said he expects no loss of business because UPCIC policyholder's asking for re-quotes are finding its premium is too low to forego; especially for wind coverage on barrier islands.
Where all this will wind up, whether the OIR can sustain the charges and whether any of UPCIC's activities meet the smell test is for you to decide.  But…based on agent anecdotes and personal observation, it may have forfeited the right to say it was all done to keep costs down for policyholders.  Executive compensation has been an issue in the past (See NOTE #3 below) and the company has a well deserved reputation for extravagant spending–trips to exotic locations, speed boats, race cars and, of course, the famous custom built Orange County Chopper motorcycles prominently on display at agent events. Some old-timers even expressed embarrassment at the spending which they've seen from others before, but…rarely with good results.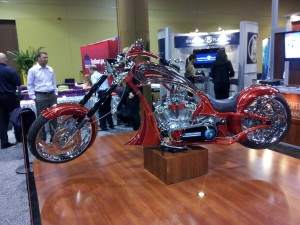 Finally, the saddest news.  As indicated by its email to agents; UPCIC's failure to recognize that just because its actions may have been legal (we'll see) doesn't make them right…or smart. 
UPCIC has handed industry haters a whole new arsenal–Chip Merlin's blog-site quickly implied it was typical of the industry and according to the Herald-Tribune, UPCIC's actions "…reinforce some of the worst beliefs about Florida's private home insurance industry that companies hide profits while sticking homeowner's with higher rates and then fight to not pay claims…" An article by the Palm Beach Post exposes numerous instances of bad treatment of policyholders that, in my opinion, often defy logic, but certainly contributed to state leaders calling the OIR's actions "…a win for the people of Florida."
All this as recent reforms begin to work; reinsurance pricing is down, premiums are leveling off; Citizens is depopulating and a new clearinghouse holds promise. 
Unfortunately…by focusing on what it could legally get away with instead of what was right, UPCIC has unnecessarily sullied the entire industry, possibly generating another round of punitive legislation and regulatory oversight.

That's too bad!
 ##end##
NOTE #1: According to financial reports by the media, UPCIC may have come out ahead as the fine is "…far less than the 50% increase in profits, to $30 million, reported for last year by the insurer's parent company, Universal Insurance Holdings Inc."
NOTE #2: The OIR order maintains that UPCIC's post loss underwriting violated the insurance code because proper 100 day notice of cancellation was required and not given.  UPCIC contends the cancellation statute doesn't apply. If the OIR is correct, the carriers may have to stay on a risk for 100 days even when there has been a material, claim related misrepresentation or fraud. The question becomes is this the penalty for not doing front end underwriting that would allow you to flat cancel coverage back to inception in the first 60-90 days? Legislative clarification may be needed that cancellation due to material misrepresentation requires proof  of a fully underwritten application at inception.
NOTE #3: Current CEO Sean Downes receives $2 million a year plus stock and bonuses of 3% of net income up to$5 million and 4% after that. According to reports, UPCIC's former president and CEO, Bradley Meier, who resigned earlier this year, was one of the highest paid in the state and is still a paid adviser, after cashing out $5 million in stock.

IMPORTANT:  If you enjoyed this post you're invited to subscribe for automatic notifications by going to: www.scottjohnsonflorida.com.  Enter your email address where indicated.  If you're already on the website at Johnson Strategies, LLC:  go to the home page and enter your email address on the right hand side.  Remember, you'll receive an email confirming your acceptance, so…check and clear your spam filter for notifications from Johnson Strategies, LLC.  ENJOY!