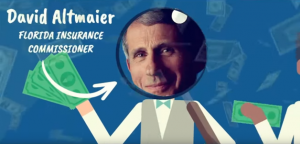 Immediately after learning that the Special Session on property insurance had adjourned with the passage of SB-2D (See Note #1 below), I was astounded to see a TV ad assassinating the character and performance of Florida's Insurance Commissioner, David Altmaier.
If you haven't seen the ad, make sure your temper is in check when you do.  It's on YouTube as well as TV and has been circulated by many others including the self-described "Johnny Appleseed of AOB"  Harvey Cohen, here.
In my 45 years of dealing with Florida insurance issues I've seen some appalling behavior by members of the trial bar (an assumption on my part, but?) this is, by far and away, the most disgusting, unprofessional move I have ever witnessed.
Not because it equates Dr. Fauci with Florida's Insurance Commissioner but, because it stigmatizes someone, "an unaccountable bureaucrat," for doing his job by not breaking the law as some apparently wish that he would.
The ad also, in my opinion and the opinion of everyone I've talked to, intentionally lies to consumers by accusing Commissioner Altmaier of various misdeeds amounting to malfeasance of office, which if true, would make him a felon and the worst Commissioner ever—worse even than the one who actually served time as a felon.
Watch the ad. Decide for yourself.  You'll find the above cartoon rendering of Fauci's head on Altmaier's body with dollar bills in his hand (code for being on the take).
The ad says Commissioner Altmaier raised rates 1500 times.  He did not. He cannot. He approved many increases because not to do so would be a grave dereliction of duty (code for "against the law").  He is required by law to approve rate requests that are supported by irrefutable data and under oath testimony.  Indeed, over the years his office has made many decisions that kept rates down.
The ad says Commissioner Altmaier has been "Hiding Insurance Financial Data."  That, of course, would be another egregious breach of duty and a felony if it were true. It is not true.
Frankly, this ad sounds a lot like the slanders delivered on the floor of the Senate by Senator Gary Farmer. He's a former president of The Florida Justice Association, which lobbies for trial lawyers.  You can read about his disgusting rant in my article titled: Did You Know Some Trial Lawyers Don't Tell the Truth?  Like this TV ad, Senator Farmer attacked the OIR and accused "bureaucrats" like the venerable President and CEO of Citizens, Barry Gilway, of what amounts to criminal behavior and states "Citizens is one of the worst insurance companies in Florida…."
In the sleaze ads above, the responsible group is identified as the Consumer Protection Alliance, based in Coral Gables.  I Googled it to learn the "Chairman" is named Anthony M. Lopez (See Fla. Dept of State Committee Tracking System).  Is this the same Anthony Lopez in the article by POLITICO titled: "Inconspicuous political cash helped trial lawyers notch wins against insurers." ?
Is it the same one in another POLITICO article regarding attorneys who aren't even bothering to file the Notices of Intent to Litigate required by SB-76? (See Notes #2 and #3 below)
Frankly, I don't know who's responsible for these reprehensible character attacks.  It's really not my point. I think it reveals obvious flaws in a self-regulatory system that prohibits ambulance chasing but somehow allows this "Springer-like" TV ad.  Is the Florida Bar powerless to stop it or to even express discontent with groundless public attacks on executive branch officials?
Is the Florida Justice Association okay with the ads?
The Governor has now signed the bill. It is law. It was a compromise between all interested parties, including trial lawyers, who agreed to support SB-2D.  It passed overwhelmingly as everyone knew it would.
While some Democrats tried to amend it (See NOTE #4) the classless TV ads are basically asking Governor DeSantis to Veto the bill.  It's his bill for gosh sakes–with each of the interested parties reluctantly supporting a beneficial but none the less, halfway step, to a permanent solution—a solution that must now be pursued during the 2023 regular session.
Shame on those responsible for circulating such an ad. And shame on those on either side of the spectrum unwilling to condemn it.
Please, if you are not already logged in, do so… and let me know what you think about the ad.
##end##
NOTE #1: Senate Bill 2D includes "pro-consumer" measures, according to the governor's office, which released the following specifics:
$2 billion in reinsurance relief through the Reinsurance to Assist Policy program to benefit policyholders during the next two years. Insurance companies will also be required to file a supplemental rate filing once enrolled in the program to provide relief to policyholders.
$150 million for the My Safe Florida Home Program to provide grants to Florida homeowners for hurricane retrofitting, making homes safer and more resistant to hurricane damage, which can result in premium discounts for those who participate in the program.
Prohibiting insurance companies from denying coverage solely based on the age of a roof if the roof is less than 15 years old or if the roof is determined to have at least five years of useful life remaining.
Requiring insurance companies to provide policyholders with a reasonable explanation if they deny or partially deny a claim and provides consumers with greater access to information during the claim adjustment process.
Creating a new standard for the application of attorney fee multipliers which have been liberally applied, resulting in increased costs to consumers.
Limiting the assignment of attorney's fees in property insurance cases to discourage frivolous claims.
NOTE #2: The 2021 reform bill (SB 76) included a provision (within 627.70152, F.S.) requiring policyholders to provide 10-days' notice to insurers prior to initiating litigation. It was intended to reduce insurance litigation costs by giving insurers time to reinspect damaged property without the expense of a suit. The provision also included a new attorney fee schedule similar to the one enacted in the 2019 AOB reforms—a graded fee scale based on the difference between the award and the pre-suit settlement offer.
NOTE #3: Regarding attorneys that have not filed NOILS as they should, the POLITICO article stated: "One of those is Anthony Lopez, a South Florida trial attorney who married "Real Housewives of Miami" star Nicole Martin. Since the pre-suit notification law took effect, Lopez has filed more than 2,000 lawsuits against insurance companies without filing pre-suit notice, according to Office of Insurance Regulation data. … Along with being on "Real Housewives of Miami," Lopez's Instagram account is full of pictures of a private jet branded "your Insurance Attorney." 
NOTE #4: Ironically someone thought legislation intended to forestall ratings downgrades and bankruptcies could be enhanced with a provision freezing rates.
##end##
Please view "The Johnson Strategies Story"
IMPORTANT: If you enjoyed this post you're invited to subscribe for automatic notifications by going to: www.johnsonstrategiesllc.com.  Enter your email address where indicated.  If you're already on the website at Johnson Strategies, LLC, go to the home page and enter your email address on the right-hand side.  Remember, you'll receive an email confirming your acceptance, so…check and clear your spam filter for notifications from Johnson Strategies, LLC.  ENJOY!