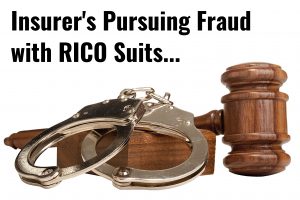 Perhaps because Florida's Insurance Commissioner David Altmaier says claims solicitation is raising the cost of Florida's property insurance industry for both consumer and provider insurers – frustrated by a lack of criminal prosecution of insurance fraud perpetrators, have taken to civil courts to deter crime by taking the profit out of the criminal schemes.
David Altmaier told lawmakers the losses insurance companies took in 2020 were almost a billion dollars, little over a billion dollars in underwriting losses for Florida's domestic industry through the first three quarters of 2020, so "that's not even a full year yet and we've almost doubled the underwriting losses from last year."
Altmaier said, while lawsuits are a main driver-a growing issue is roofing claims. He reported that roofing claims do not appear to be normal roofing claims in which a consumer notices that they incurred a loss and calls their insurance company, but instead solicitations.
RICO Actions 
In a suit filed January 13, 2021 by Heritage Insurance Company (See NOTE #1 below) in addition to money damages, Plaintiff seeks a declaration that it is not legally obligated to pay reimbursement of more than $75,000.00 in outstanding claims for services that have been submitted or caused to be submitted by Defendants because the claims were fraudulent, unlawful, orchestrated and otherwise non-reimbursable.
On June 18, 2020 Citizens Property Insurance Corporation sued in state court claiming a conspiracy of the defendants paying for sham first-party property insurance claims, using or acting as runners or cappers, all to defraud Citizens, a governmental entity of the State of Florida, claiming violation of civil RICO statutes. (See NOTE #2 below)
Florida's Civil RICO statute provides, "It is unlawful for any person employed by, or associated with, any enterprise to conduct or participate, directly or indirectly, in such enterprise through a pattern of racketeering activity or the collection of an unlawful debt." Fla. Stat. § 895.03(3). Federal RICO provides, "It shall be unlawful for any person employed by or associated with any enterprise engaged in, or the activities of which affect, interstate or foreign commerce, to conduct or participate, directly or indirectly, in the conduct of such enterprise's affairs through a pattern of racketeering activity or collection of unlawful debt." 18 U.S.C. § 1962(c). Since Florida RICO is patterned after federal RICO, Florida courts have looked to the federal courts for guidance in interpreting and applying the act. Therefore, federal decisions should be accorded great weight.
Both actions are civil suits. The Citizens case also includes the Strems Law Firm and Scott Strems who readers of ZIFL are aware are under investigation and suspension by the Florida State Bar for actions similar to those alleged in the suits.
Whether these actions are successful or not one can only hope that they will deter future criminal or fraudulent activity aimed at insurers doing business in the state of Florida. Of course, as all insurance fraud investigators understand, allegations of insurance fraud are easy to make – whether from an insurer or an insured – but they are also difficult to prove. ZIFL can only hope that the lawyers who brought these RICO actions have collected sufficient admissible evidence that they can bring to the court to establish the two predicate acts and that there was an ongoing scheme to defraud the insurers. (See NOTE #3 below)
Insurance fraud bleeds those honest people who buy insurance not some evil insurance company living in an ivory tower. Insurance fraud hurts the average person who presents a claim for a legitimate reason. If, as the complaints allege, honest people were duped by public insurance adjusters, lawyers and repair facilities to present exaggerated or fraudulent claims they will be hurt while the defendants named profited and the honest homeowners found their property not repaired.
It is time that the Attorney General of the State of Florida, the local prosecutors and the U.S. Attorney for Florida recognize that insurance fraud is rampant in Florida and it is time that criminal prosecutions are brought under state and federal criminal statutes to deter the alleged villains from further actions defrauding insurers and the citizens of the state of Florida. See: Zalma commentary on Fraker report: "Florida's P&C Insurance Market: Spiraling Towards Collapse"
Law of Unintended Consequences
It is up to the Florida Legislature to reform the statutes enacted with good intentions that are being abused.  The only solution to the problems raised by the law of unintended consequences is to cure the legislation that was intended to help consumers and has resulted in harm to the consumers of Florida who pay to insure their property and the risks of loss of fire, wind, and hurricane. The changes should include, in my opinion:
·         Removal of the attorney fee multipliers from statutes;
·         Change allowable attorney fee arrangements so they are awarded based on policy limits and damages awarded to claimants;
·         Change the 3-year First Notice of Loss deadline to one year;
·         Require courts to enforce excluded or non-covered damages if clear and unambiguous;
·         Consolidate litigated cases so multiple suits are not filed for the same property;
·         Eliminate building tradesman (i.e., roofing contractors) from speaking on behalf of an insured without the insured's involvement; and
·         Prosecute tradesmen who are not licensed lawyers or public adjusters for violation of the licensing laws.
The Legislature and Insurance Regulations must understand that without reform the current litigation and claims situation will be devastating to Florida's economy. If the state Legislature is unable to fix the problem perhaps the two RICO suits will deter some of the more egregious claims and might prove a model to other states facing increasing litigation by what the RICO suits report are profiteers rather than insureds with actual, easy to investigate and adjust, losses.
##end##
NOTE #1: Heritage Property and Casualty Insurance Company sued Moisture Rid, Inc., Water Dryout, LLS and Angelica, Albert Sigler in the United States District Court for the Southern District of Florida, Miami Division, there docked as case number 1:21-cv-20134-DPG alleging desire to terminate an ongoing fraudulent scheme committed against Heritage and more broadly, the Florida homeowners' insurance industry.
NOTE #2: The suit was filed against the Strems Law Firm, P.A., Scott Strems, Contender Claims Consultants, Inc., Guillermo Saavedra; All Insurance Restoration Services, Inc., Cesar I Guerrero and Derek Parsons with predicate acts of mail and wire fraud; travel in furtherance of scheme to defraud in violation of 18 USC Section 1952; Violation of the Florida RICO Act, Sections 895.02(5), and 895.03(3).
The predicate acts for a Racketeer Influenced and Corrupt Organizations Act (RICO) action is they claim violation of the Florida Insurance Fraud statute and Florida Statute Section 501.201 et.seq., and Section 772.103 et.seq.,18 USC Section 1962[C]& [D] as well as common law fraud.
NOTE #3: In 2018, certain named defendants tried to have the court dismiss a suit brought by State Farm that alleged that violations of Florida Statutes section 817.234(1) -a criminal statute dealing with insurance fraud-serve as predicates supporting its FDUTPA claims. Section 817.234 "explicitly prohibits preparing … any written statement that is intended to be presented to any insurer in connection with any claim for payment … pursuant to an insurance policy, knowing that such statement contains any false, incomplete, or misleading information concerning any fact material to that claim. The attempt failed and the court required the defendants to answer the complaint. State Farm, in its complaint, pointedly alleges a defendant, Dr. Lorites was an integral part of the complained of fraud, including his involvement, as a medical director, in the submission of false and misleading bills and records-in direct violation of section 817.234. [State Farm Mut. Auto. Ins. Co. v. Health & Wellness Servs., Inc., 389 F.Supp.3d 1137 (S.D. Fla. 2018)].
NOTE: Mr. Zalma has more than 53 years as a claims person and insurance coverage attorney who has advised insurers on claims handling and coverage interpretations. He provides expert testimony on insurance policy language, insurance bad faith, insurance claims handling and is a nationally recognized expert on insurance fraud matters.  To learn about and subscribe to Zalma's free Newsletter go here.
IMPORTANT: If you enjoyed this post you're invited to subscribe for automatic notifications by going to: www.johnsonstrategiesllc.com.  Enter your email address where indicated.  If you're already on the website at Johnson Strategies, LLC, go to the home page and enter your email address on the right-hand side.  Remember, you'll receive an email confirming your acceptance, so…check and clear your spam filter for notifications from Johnson Strategies, LLC.  ENJOY!
Please view "The Johnson Strategies Story"