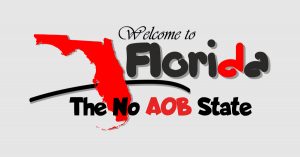 Late last year I failed to report that the fight against Assignment of Benefits (AOB) took another hopeful step forward.
Recall the reforms of 2019 in which new requirements were placed on AOB's?  As helpful as they were, they were not an outright prohibition as some thought.  Instead HB-7065 made the use of AOB's less likely and provided safeguards against consumer abuse.  These safeguards, including improvements to the one-way attorney fee statute, were intended to reduce invoice inflation, massive fraud and mounds of frivolous litigation. The operative language restricted AOB's to emergency work which is the lesser of $3,000 or 1% of Coverage A. (See NOTE #1 below)
While prohibiting AOB's outright was a pipe dream, the reforms that passed left openings for some attorney's, contractors, public adjusters, water firms, et. al., to develop workarounds, (See AOB Under Attack…Happy New Year!). There were even video's on so called "simple methods" for compliance sponsored by the Restoration Association of Florida (RAF) and its' president Richie Kidwell. And, sadly, I've received  more than one example of contractors ignoring the 2019 reforms altogether.  (See NOTE #2 below)
It's these "workarounds"  that had the insurance industry eagerly anticipating a ruling from the Supreme Court of Florida (SCOF) on an important AOB case—one clarifying that insurers could require "all named insureds" to sign an AOB before it could be valid and enforceable.  In case it's not obvious, requiring all parties with an interest in the property to approve an AOB, is like asking congress to vote for term limits.
Unfortunately, when the case arrived at the Supreme Court, the existence of the 2019 reforms was the excuse to not hear the case.  "Because we conclude that the new legislation addresses on a going-forward basis the issue before us…accordingly we dismiss this review proceeding." it said.  (See Note #3 below).  The eternal optimist, I opined that SCOF's decision "…was not as bad as it sounds" in my blog by the same name, here.
One reason SCOF's inaction was not "as bad as it sounds" is that DCA's could continue rendering favorable rulings on the "all named insureds" issue, like they did in two decisions late last year. The 3rd DCA upheld the  limitation in All Insurance Restoration Services v. Olympus Ins. Co.. And the 4th DCA issued a similar opinion in a case involving Geovera Specialty Insurance Co. Both cases involved water remediation firms which had obtained an AOB without sign-off from the mortgagee.  (See NOTE #4 below)
SCOF hasn't ruled on the issue, so…these rulings are applicable in the districts where they were rendered and provide potential, someday maybe, for SCOF to still rule on the issue statewide.  For all these reasons expect more and more carriers to begin using the "all named insureds" language in their policies—something even Chip Merlin agrees will happen.
Meanwhile, 60% of all Florida homes have a mortgage. And, thanks to the 2019 reforms, 100% of homeowners can still cancel most AOB's up to 30 days after signing one, with no penalty. These reforms, and those curtailing attorney fees, are having an impact on the proliferation of AOB's as well.
Don't forget, these DCA rulings also apply to roofers who, of late, are among the most prolific 3rd party scammers out there.
SUMMARY: when I say it's possible for Florida to "someday" become a no-AOB state….please don't laugh…
…anything is possible!
##end##
NOTE #1: beginning on line 137, HB-7065 states the following:
(c) If an assignor acts under an urgent or emergency circumstance to protect property from damage and executes an assignment agreement to protect, repair, restore, or replace property or to mitigate against further damage to the property, an assignee may not receive an assignment of post-loss benefits under a residential property insurance policy in excess of the greater of $3,000 or 1 percent of the Coverage A limit under such policy. For purposes of this paragraph, the term "urgent or emergency circumstance" means a situation in which a loss to property, if not addressed immediately, will result in additional damage until measures are completed to prevent such damage.
NOTE #2: After attending the RAF seminars, Dr. Gary Rosen, sent me his summary of their approach, as follows:
Day 1 the remediation contractor gets the AOB signed upon arrival at the loss site. This is called the "emergency services visit" wherein water is mopped up or removed but, no actual drying takes place.  An invoice is prepared and labeled emergency services. This is under the $3,000 Emergency Services cap. Then, all subsequent work is called Non-Emergency Services and billed separately and is not under the $3,000 cap.
Day 2 the contractor returns to begin "non-emergency" drying under the auspices of the same AOB signed and billed the day before. When the "non-emergency" dry-out work is done, another invoice is prepared.
Upon completion of the drying, "mold remediation" is performed if required; again, using the same AOB but, with a new invoice only for mold remediation, then…
Perform the same steps above for any rebuild that may now be necessary. Allegedly, the total amount invoiced for all visits can exceed the statutory limitation of $3,000 or 1% of Coverage A and still be under an AOB.
NOTE #3: The origin of the Supreme Courts' decision not to review AOB began when a state appeals court upheld insurance policy language barring policyholders from signing assignment of benefits agreements without the approval of co-insureds, including financial institutions holding mortgages on the property. The ruling, written by Judge Alan Forst for a unanimous three-judge panel of the 4th District Court of Appeal in 2018, contradicted a finding by the 5th District reached in December 2017. Ark Royal was one of a few carriers with a policy form that already had the "All Named Insureds" restrictive AOB language, having implemented such during the OIR's temporary certification process.  See the following for more:
NOTE #4: The Third District Court of Appeal ruled Oct. 13 that Heritage Property and Casualty Insurance Co. was not bound to pay a contractor, Union Restoration Inc., in a breach-of-contract dispute involving home repairs for water damage.
"Finding no error in the trial court's determination that the assignment attached to the amended complaint is invalid because it was not signed by one of the insureds and the mortgagee, as required by the underlying property insurance policy, we affirm,"
The Fourth District Court of Appeal issued a similar opinion in October in a case involving Geovera Specialty Insurance Co. finding that a lack of adequate signatures invalidated an assignment-of-benefits (AOB) contract with a remediation services company.
Please view "The Johnson Strategies Story"
IMPORTANT: If you enjoyed this post you're invited to subscribe for automatic notifications by going to: www.johnsonstrategiesllc.com.  Enter your email address where indicated.  If you're already on the website at Johnson Strategies, LLC, go to the home page and enter your email address on the right-hand side.  Remember, you'll receive an email confirming your acceptance, so…check and clear your spam filter for notifications from Johnson Strategies, LLC.  ENJOY!