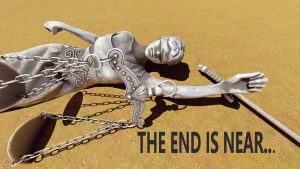 In "Collapse of an Evil Empire! PART IX—Thumbs UP, Thumbs DOWN?" I opined that the Bar's response to Scot Strems "Brief" arguing that his recommended sentence was too harsh, would be that it was too light and instead of two years suspended license, the Bar would argue that he be permanently disbarred.
I was right! The Bar asserted exactly that in a 90-page "Answer Brief" filed February 5th with the Supreme Court which you can read here.
Though the legacy of these proceedings will flourish for years to come, the final judicial chapter is now within site and will be available to us all when the Supreme Court decides these final assertions made by both sides.
Stay tuned for when that momentous day arrives, hopefully soon.
Meanwhile there's much to be learned from the Bar's attempt to re-frame  Judge Dawn Denaro's so called "light" sentence into a convincing argument for permanent disbarment.
Frankly, and for what it's worth, I thought the Bar's "Answer Brief" achieved its objective.
The Bar was successful, in my opinion, countering Strems argument that his firm's performance over the last ten years was due mostly to bad management.  The Bar stated that in 2016 "at the latest… Mr. Strems knew that he, and the associates he managed, were regularly violating the Florida Rules of Civil Procedure, courts orders, and the Rules of Professional Conduct." And, that the pattern engaged in "involved aggressive marketing and teaming with groups like All Insurance Restoration Services, Inc. ("AIRS") and Contender Claims Consultants, Inc. to bring in the maximum number of clients, pushing their cases into litigation, but then understaffing the law firm and providing a law firm system that could not handle the demands of investigation, examinations under oath ("EUOs"), and pretrial discovery."
This argument, if true, also partly refutes Strems assertion that he's not "vicariously responsible" for the activities of other attorneys within his own firm. To the contrary the Bar asserts that "…instead of taking immediate steps to remediate this serious problem, Mr. Strems continued to grow the size of the firm…"
Indeed, Strems' litigation manager testified that the frequency of "sanction orders" against the firm was at its worst from March of 2016 to May 2017 and that those "…sanctions were being entered almost on a daily basis." 
That's right: "Sanctions on a daily basis", hard to fathom.

Not intentionally, perhaps, but the Bar highlights the alarming litigation explosion being addressed in SB-76. Particularly the one-way attorney fee statute Fs-627.428 which it argues "…encourages a lawyer to file a lawsuit as soon as possible to transform a dispute over a relatively small amount of insurance proceeds  into a substantial fee award greater than the amount of the insured's recovery."  (See NOTE #1 below)
The Bar references other issues SB-76 resolves when it says, "Judges considered Strems' practice of multiple cases involving the same parties to be a waste of precious judicial resources." And they "…were concerned about…duplicate awards of attorney's fees in cases involving the same set of facts."
Moreover, the Case Study (McEkron vs Security First) provided in PART IV "Collapse of an Evil Empire!" is specifically referenced in the Bar's quest to show that much of Strems behavior was about increasing revenue, not helping clients get paid.  The Bar says, in part:
"Mr. Strems' firm pursued a fee claim in excess of $300,000 in a dispute over a $30,000 loss that resulted in a $10,000 verdict. The firm would also have separate fee claims whenever multiple lawsuits were filed on behalf of the same clients for damage to the same property. Obviously, Mr. Strems was happy when Mr. Aguirre reported a higher number of cases filed because that translated into an increased likelihood of more attorney's fees in any given matter."
It's interesting to note the role that the many sanctions and dismissals against the Strems firm played in assessing "remorse" on the part of Strems himself. To me these actions against his firm, called Kozel orders, (See NOTE #2 below) display a complete disregard for the clients whose cases were being dismissed, too often with prejudice.
There were many examples cited by the Bar before 2016.  In 2016 associate Greg Saldamando received a Kozel dismissal with prejudice, for example, and later that same year Scot Strems "…was served with orders in two separate cases where his client was dead."
The order itself made it plain to the Bar that he "…has engaged in egregious willful disregard for the Florida Rules of Civil Procedure, deliberately delayed litigation and discovery in this case for over one-year," and "made misrepresentations to Defendant's counsel, and has exhibited gross indifference for the importance of candor throughout the pendency of this litigation."
It appears to me that the sanctions (Kozel's) were so numerous there's no other explanation than the Bar's allegation that  "…at least some of the problem involved basic honesty and professionalism."  In fact Strems, according to the Brief "…watched the weekly sanction orders come in, and paid $5,000 to $15,000 per week in 2016-2017." All this while "…continuing to file 20 to 50 new claims per week. The Bar stated:
"…we do know that his firm garnered far more Kozel orders in a few years than many large firms experience in a lifetime."
And, finally…you may recall my criticism of Strems' attempt to tie the Bars actions against his firm as the result of an insurance industry fed up with someone who was successful litigating against it.
"The Florida Bar did not file this proceeding as a patsy of the insurance industry. Indeed, there are many members of the Bar who competently and diligently represent insureds in legal disputes against insurers, including those who insure homes. Instead of creating a large bureaucracy, the Legislature has intentionally enacted statutes that place lawyers in the role of protecting ordinary citizens from abuses within the insurance industry. The Bar is proud of the service those lawyers perform."
Regardless of the outcome, this story, The Collapse of an Evil Empire, has major implications for the future of Florida's property market.
Stay tuned for the Supreme Court's final announcement on the fate of Scot Strems.
THE END IS NEAR…
##end##
NOTE #1: The Bars brief states, in my opinion, exactly the problem with Florida's one way fee statute, as follows: "If a case was resolved without litigation, the firm's recovery was limited to 25 percent of the client's recovery. The average indemnity claim was closer to $20,000 than $40,000. If extensive work was performed on post-loss compliance under the terms of the policy, and the case was settled in negotiations prior to litigation, Mr. Strems received a 25% recovery. But if a case was resolved after suit was filed, the firm's recovery was the greater of either 30 percent of the client's recovery or the amount of fees awarded against the insurance company under section 627.428. This fee arrangement reflects the reality of insurance litigation where the Florida Insurance Code allows insureds to recover attorneys' fees from insurers when a matter moves into litigation. See Wollard v. Lloyd's & Cos. of Lloyd's, 439 So. 2d217, 218 (Fla. 1983); State Farm Fire & Cas. Co. v. Palma, 629 So. 2d 830, 833 (Fla. 1993)."
NOTE #2: Kozel is a case (Kozel vs. Ostendorf) in which the Supreme Court adopted a set of factors to apply in the application of sanctions. A Kozel order is essentially the last step before a disciplinary  proceeding or a malpractice action.  The six Kozel factors are:
 1) whether the attorney's disobedience was willful, deliberate, or contumacious, rather than an act of neglect or inexperience;
2) whether the attorney has been previously sanctioned;
3) whether the client was personally involved in the act of disobedience;
4) whether the delay prejudiced the opposing party through undue expense, loss of evidence, or in some other fashion;
5) whether the attorney offered reasonable justification for noncompliance; and
6) whether the delay created significant problems of judicial administration.
The Court explained: "Upon consideration of these factors, if a sanction less severe than dismissal with prejudice appears to be a viable alternative, the trial court should employ such an alternative."