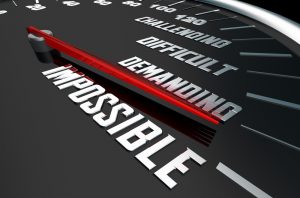 You've heard me call Citizens Property Insurance Company (Citizens) a "safety valve" for Florida's property market. I look at it this way: when things get rough in the private market it's a safe haven for those that private carriers don't want to insure, or those who can't afford the approved rate.
Technically, however, Citizens is a state backed carrier that relies on assessments to cover intentionally repressed rates. Similar to an assessable reciprocal (See Fla. Statutes Chapter 629) but without the "attorney in fact" and with the added benefit of being able to assess every policyholder, including those that aren't insured in Citizens and those that don't even own a home.
One of Citizens prime missions is to keep its' policy count and thus its' assessment exposure as low as possible, low enough to avoid an assessment. At its' December 2021 board meeting, Chairman Carlos Beruff, said lawmakers "…have given us an impossible task!"
Truer words have never been spoken.
Of course, Citizens does have various mechanisms to reduce policy count.  One example is an extremely expensive front-end Clearing House that channels incoming policies to participating private carriers. It generates close to 150 questions for each applicant to cover the underwriting requirements of every carrier in the program.  Thus, like a lot of Citizens' procedures, the questions themselves act to deter admissions.
Citizens also provides less liability coverage, pays the lowest agent commissions in Florida and engages in aggressive takeout programs. All as a partial means to reduce its' Policies in Force (PIF).
The counterweight to virtually any keepout/takeout mechanism, however, is the legislatively established glide path limiting Citizens rate increases to 11% currently, soon to be 12%-increased from 10% in last years' SB-76. (See NOTE #1 below).  Especially in today's market where private rates are soaring, this "cap" on Citizens rates defeats any and every mechanism to attenuate policy count.
In a document prepared by Citizens staff, Claims Paying Resources 2022, the gulf separating Citizens mission from the tools to complete that mission, is succinctly explained:
Citizens could accomplish its mission if it had actuarially sound rates and a risk transfer program [Reinsurance] which allows for surplus accumulation thereby reducing or eliminating surcharge risk for Citizens' own policyholders and assessments for all assessable Florida policyholders.
[However] Citizens is not fully in control of its rates due to the "glide path" constraint, losses from events, and abusive litigation.  (Emphasis added)
Here's the thing. Both Citizens rates and the "abusive litigation" are due to the legislatures' direct action or, as in this last session, inaction.  Keep in mind the "abusive litigation" also increases the cost of an "event" and thus reinsurance (the risk transfer program).
One alert reader forwarded a Citizens takeout quote recently offered to a Citizens policyholder at renewal.  It contains pages of information designed to persuade the policyholder to accept the offer made by Florida Peninsula. Good Stuff. But, on page two you'll see the offer from Florida Peninsula is $6,073.00 compared to Citizens renewal of $3,486.00.
Which one would you take?  Would Citizens' modestly lower coverage make any difference whatsoever?  Would it matter to you that there's a remote possibility of an assessment down the road, one likely to generate a special session to reduce your burden to pay it?
In Citizens internal Rate Comparison Study conducted in November 2021 Citizens was found to be "extremely competitive" with the private market. The year before that it was found that 69% of companies average premium was at least 15% greater than Citizens average rate. But, in the most recent study 97% of companies were higher than Citizens, sometimes more than 50% higher.  One unpleasant bullet point is the fact that in the earlier study, where five companies were lower than Citizens, most of them went bankrupt.  (See Note #2 below)
Here's how Citizens average rate compared with the average rate of each company in the November 2021 study, based on Citizens rates in September 2021.
(Click to enlarge)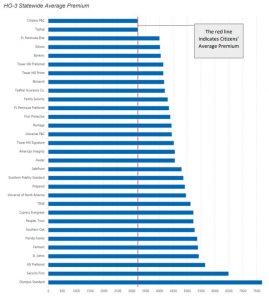 Based on this chart, other than TypTap, Citizens was the most competitively priced carrier in Florida in 2021.  Since the study was conducted TypTap has shutdown, leaving Citizens as the lowest priced carrier, bar none.  And a number of other carriers, including some of the largest writers, have acted similarly to TypTap–in essence many carriers won't write any new business at any price.
Citizens mandate is literally a Mission Impossible.  Its' population, fueled by shutdowns, insolvencies and competitive rates, has surged to 800,000 policies and will be over 1 million by years' end.
And, for what?
The original purpose of a residual property market (the FRPCJUA) was noble and necessary.  (See NOTE #3). Today Citizens purpose is to be more like a holding pond to blunt the impact of political decisions, like the one in Florida's House not to allow debate on reforms addressing the "abusive litigation" and the unsavory roofing solicitations that feed it.
The one question I'm getting asked more than any other is… "Will there be a special session to fix this mess?"
Frankly, I haven't the foggiest.
##end##
NOTE #1: in 2009, House Bill 1495 created Citizens rate glide path stating that no individual can be charged more than a 10% rate increase. In 2021, Senate Bill-76 stated the glide path cap will increase one percentage point each year for five consecutive years. In 2022 the cap increases from 10% to 11%; 11% to 12% in 2023; 12% to 13% in 2024; 13% to 14% in 2025; and from 14% to 15% in 2026.
NOTE #2: The companies with rates lower than Citizens were:
Gulfstream was 27% below Citizens in last year's study and was liquidated in July 2021.
Monarch was 11% below Citizens in last year's study. In 2017, it was acquired by FedNat, who announced in November 2021 that they were withdrawing from regions outside of Florida due to financial issues.
Capitol Preferred was 11% below Citizens in last year's study. In November 2020, the company merged with Southern Fidelity for financial reasons.
TypTap was 10% below Citizens in last year's study.
Southern Fidelity was 3% below Citizens in last year's study.
NOTE #3: A residual pool of some sort had to be created after Hurricane Andrew. Thousands of policyholders insured by bankrupt companies needed, but could not find, coverage required by their mortgages. Andrew damaged or destroyed their home and no company would knowingly insure a home with existing damage.  The answer to this dilemma was the Florida Residential Property Insurance Joint Underwriting Association (FRPCJUA), a temporary organization designed to provide coverage until FIGA could pay the claims of the insolvent carriers.
It was a mess and Citizens predecessor, the FRPCJUA, was there to clean it up.  Which it did. Then came the '04/'05 storms that were even worse than Andrew.  Along with non-renewals, rates rose dramatically.  Thus, a special session was called to implement Charlie Crist's HB-1A, which created a market heavily dependent on insurers that are heavily dependent on reinsurance to fund their catastrophe exposure.
Please view "The Johnson Strategies Story"
IMPORTANT: If you enjoyed this post you're invited to subscribe for automatic notifications by going to: www.johnsonstrategiesllc.com.  Enter your email address where indicated.  If you're already on the website at Johnson Strategies, LLC, go to the home page and enter your email address on the right-hand side.  Remember, you'll receive an email confirming your acceptance, so…check and clear your spam filter for notifications from Johnson Strategies, LLC.  ENJOY!