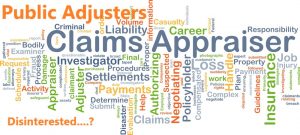 A few years back I opined that it seems like the courts spend a disproportional amount of time litigating the obvious.
Case in point. The appraisal clause in most homeowner's policies is constructed to resolve disputes regarding the amount of a claim.  In "How Interested are the Disinterested?" I said it was "absurd" for Public Adjusters (PA's) to act as both a "disinterested" appraiser while also being paid a contingency on the same claim.  
Most know the appraisal clause to be a simple method of alternative dispute resolution dating to the early foundations of modern property insurance, specifically the 1943 165-line Standard Fire Insurance Policy –every word of which was painfully scrutinized in my early insurance classes including, and most especially, the word "disinterested".  It was never discussed, nor even contemplated, that this word, "disinterested," would not only include someone who is "interested" but one who also stands to make more money the higher they appraise the damage.
Last week (February 9, 2023) the Supreme Court of Florida (SCOF) found in Parish v State Farm (No. SC21-172) that the existence of a contingency fee between a public adjusting firm and an insured disqualifies the retained public adjuster, the public adjusting firm, its officers, its LLC members, and anyone else who would benefit from the firm being paid by the appraisal award from being a "disinterested" appraiser.
In this case Parish hired Keys Claims Consultants as their Public Adjuster (PA) for a Hurricane Irma claim.  When State Farm objected to Key's estimate Parish and Key's invoked the appraisal clause and when Key chose his firm (himself) as the disinterested appraiser, State Farm took to the courts.
So, how big of a deal is this?
Well, I've talked to folks on both sides, and they all seem to think it's a big enough deal to impact rates, as well as the fairness of the system. While I'm certain we'll never be able to pinpoint how much, it's got to have an attenuating impact in my opinion. (See Note #1 below)
Think about it.  There's an obvious stimulant to inflate a claim when a PA can make more money on every claim due to a contract that pays more money the higher the claim payment is.  Since the PA can also be a disinterested party under appraisal and be paid for that as well, there's another incentive to inflate the original claim so that appraisal can be invoked.  And, of course, as I've said before "A PA that acts as the appraiser for his client is being hired to judge whether or not he/she's done a good job—essentially ruling on the accuracy of his/her own work product." Which is "ridiculous."
I did have one enlightened source explain that those PA's making "decent" money from appraising may be charging only 10% on their contingency to be more competitive acquiring the original claim—knowing they'll make it up with an appraisal fee which is often also paid based on a percentage. The question is…will those doing so now raise their 10% fee on the original claim to 20% with the hope of capturing the same income?
Who knows?  I surely don't.  Either way, that could be remedied by lawmakers reducing the statutory fee cap to 10% across the board—something I, and others, have advocated for more than a decade. (See Note #2 below)
There's also a bit of irony in SCOF's decision in that it falls on the heels of the Special Session property reforms which include substantial amendments regarding the appraisal process.  (See staff analysis here.)
The point is, however, that SCOF's decision, in addition to creating fairness in the appraisal process, will also have a salutary impact on "some" of the existing claim inflation and…that's a good thing! (See Note #3 below)
##end##
Note #1: When I researched PA laws in other states a few years ago I found 14 states had fee caps for PA's. Florida's 20% cap was (and is) among the highest.  At the time Alabama did not allow Public Adjusting as it was considered to be the unlicensed practice of law.  Also at the time, Louisiana prohibited PA's from charging a percentage of the claim. Listen to legislative testimony from Public Adjuster representatives (NAPIA and NJPIA) regarding fraud incentives from contingency fees (of 20%) here.
Note #2:  It might also eliminate delays in claim payments. According to a Citizens study and a report by the Office of Program Policy Analysis & Government Accountability (OPAGGA)… "As shown in the exhibit, when public adjusters represented policyholders, claims processing typically took between 132 to 296 days longer than claims without public adjuster representation."  See page 6 "Citizens claims with public adjuster involvement took longer to close."
Note #3: Here are some other suggestions for PA reforms that would have a material long term impact on Florida's property loss costs.
In the opinion of many, there is no need for "non-resident" public adjusters. The license (Fs. 626.8582) should be eliminated and PA's from other states should be prohibited from practicing in Florida… whether there's a hurricane or not. Frankly, this might be the first of my idea's that Florida's 1400 or so resident PA's might like.  I've spoken to no one that opposes the idea of eliminating non-resident PA's.
Along with many others I believe it is bad public policy to pay Public Adjusters based on a percentage of a claim payment. According to testimony of those who represent Public Adjusters a percentage of, say… 20% (Florida's cap) is an inducement to illegally inflate the claim or to "create a claim where one otherwise did not exist."  The law should be changed to require that PA's charge a reasonable hourly rate and let competition determine how much that rate is.
Finally, I propose that the Speaker of the House and the President of the Senate immediately appoint a bi-partisan joint panel to study whether Florida should continue to utilize its' current system of Public Adjusting. Some other states prohibit Public Adjusters and now that Florida has reformed attorney fees, it should investigate whether it's feasible to let attorneys exclusively represent policyholders with disputed claims.
IMPORTANT: If you enjoyed this post you're invited to subscribe for automatic notifications by going to: www.johnsonstrategiesllc.com.  Enter your email address where indicated.  If you're already on the website at Johnson Strategies, LLC, go to the home page and enter your email address on the right-hand side.  Remember, you'll receive an email confirming your acceptance, so…check and clear your spam filter for notifications from Johnson Strategies, LLC.  ENJOY!