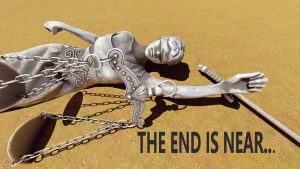 Yes, once again, the END IS NEAR! For a good summary of how we got to this point and the results of trials where both sides have presented their cases on allegations against attorney Scot Strems, you should read Collapse of an Evil Empire! Part XI—Making Sense of Things.
This report is about the most recent decision (September 28, 2021)–where the Bar alleges Contempt by Scot Strems for violating the Supreme Court's June 9, 2020, Emergency Suspension of his license to practice law.
Recall that, at the time of his suspension, Strems was handling about 7,000 clients and managing 30 lawyers or so and a 120 person support staff. The suspension order prohibited him from accepting new clients, ordered him to furnish copies of the Suspension Order to a host of relevant entities and clients and to stop moving any money in or out of the firms accounts.
The Bar alleged Strems failed to meet those requirements, in part, by forming another firm (Property Advocates) which allegedly continued to accept new cases, did not file notices to withdraw from existing cases all while Strems continued to hold himself out on social media as an attorney. (See NOTE #1 below)
The Supreme Court appointed referee; Judge Dawn Denaro who gave both sides ample opportunity to present their cases.  Her just released decision finds Strems to be not guilty and states he "Gave sufficient credence to the severity of the action of the Supreme Court of Florida…hired knowledgeable, experienced and well respected attorneys…to navigate the…Court's Emergency Suspension Order." (See NOTE #2 below)
Frankly, the following conclusions by Judge Denaro appear to directly juxtapose allegations made by the Bar:
Mr. Strems, the sole shareholder of SLF, could have dissolved SLF and jeopardized the interests of its numerous clients, attorneys, and support staff. Instead, Mr. Strems endeavored to timely comply with the mandates of the Suspension Order by divesting himself from his namesake SLF, securing corporate continuity of life for the firm, protecting approximately seven thousand (7,000) clients' interests, and minimizing any negative impact to the thirty (30) employee attorneys and one hundred and twenty (120) law firm staff members that were dependent on SLF for their livelihoods. 
What's next?  I'm not a lawyer but, the lawyers I've talked to believe that the next step in this arduous episode will be the Supreme Court formally ruling on the original recommendation from Judge Denaro that Strems license be suspended for two years with one additional year of supervised probation.
Some opined the Supreme Court might up the referee's recommendation to permanent disbarment with the right to appeal in five years, IF…he'd been guilty to any degree on any other Bar complaints.  This Not Guilty finding, however, has pretty much dashed those hopes.
However, those believing this is all bad news for Florida's "dire" property insurance market should keep the following in mind:
Scot Strems will likely be on probation for two years and unable to practice law in any capacity.
Scot Strems will be under direct supervision, including scrupulous and timely reports and onsite visitation by a Florida bar appointed supervisor during his one year of probation.
Thanks to reforms implemented since this saga began, Strems and every other plaintiff attorney will no longer be able to file multiple suits for the same client regarding the same policy–a practice pretty much pioneered by the Strems firm.
Also, thanks to SB-76 Strems and all other plaintiff firms will have to comply with the new pre-suit notice requirements before simply filing any property claim, which should cut down materially on frivolous litigation.
Strems and every other plaintiff attorney will have to comply with the new limitations placed on Florida's one-way attorney fee statute and a shortened statute of limitations on filing claims. The former is likely responsible for a substantial reduction in new suits in August and September immediately following the July 1 effective date of SB-76.  (See NOTE #3 below)
Next up will be the Supreme Courts' final decision on the suspension of Scot Strems license to practice law. 
##end## 
NOTE #1: For more in depth analysis you may want to read my early blogs touching on the contempt allegations and related matters.  Keep in mind, my previous opinions were based on the known facts and allegations at the time the blogs were published.  More facts have come into focus in the subsequent hearings regarding each of the Bars allegations. The contempt hearing, like those regarding solicitation practices and fee arrangements, is over… so my opinion on technical guilt or innocence has changed accordingly.  My opinion on the importance and market implications of this entire saga has changed very little, however.  Form your own opinion by reviewing: Part III and Part IV1/2 of the "Collapse of an Evil Empire" blogs.  Also, review the Bar's petition alleging contempt.
NOTE #2: The contempt hearing revealed many weaknesses in the  Bar's contempt allegation, in my opinion.  But it's important, as with all of the Bar's complaints, that you form your own opinion, separate from mine, and based on the documents that I've tried to make available. The Referee's Report can be viewed on my large documents site at Box.com, here:  https://app.box.com/s/wjjxqb32rwhtdqgirqzyf51tjw1piu7b. Over 65 other documents available from Johnson Strategies regarding the Strems affair are available by scrolling down to the word "Strems" in my online library page here: http://johnsonstrategiesllc.com/aob-on-and-after-reforms-effective-july-1-2019
NOTE #3:  Many plaintiff attorneys believe that SB-76 only applies to lawsuits for claims made after July 1, 2021 under policies that were issued or renewed after July 1, 2021. That's how the AOB statute was written and that language was in the original House version of SB-76. Plaintiff's argue the Mendez case and the change in the medical malpractice statute in support of their contention that SB-76 can not be applied retroactively. That issue is being actively litigated around the state at the present time and Johnson Strategies is gathering information for future publication.
Please view "The Johnson Strategies Story"
IMPORTANT: If you enjoyed this post you're invited to subscribe for automatic notifications by going to: www.johnsonstrategiesllc.com.  Enter your email address where indicated.  If you're already on the website at Johnson Strategies, LLC, go to the home page and enter your email address on the right-hand side.  Remember, you'll receive an email confirming your acceptance, so…check and clear your spam filter for notifications from Johnson Strategies, LLC.  ENJOY!