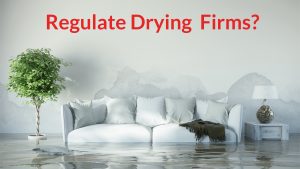 Ron Hurtibise with the Sun Sentinel penned an article titled "Insurers using RICO Act to strike back against alleged fraud."
By examining insurers use of the Federal Racketeering, Influence and Corrupt Organizations Act, Hurtibise highlighted an oft neglected layer in Florida's horrible property market. Water mitigation firms are unregulated—the only players in Florida's substantial pyramid of fraud to be so blessed and, as a consequence, so likely to behave badly.    (See NOTE #1 below)
Don't misunderstand, regulating water firms will not solve Florida's property insurance problem. Not even close. But that doesn't mean regulation isn't badly needed.
Think about it. Attorneys, roofers, public adjusters, plumbers, contractors …they're all licensed. Their livelihoods are at stake if they violate statutorily prescribed rules of conduct.
Not so for water mitigation firms. They suffer penalties only if (and it's a big IF) a prosecutor decides to do what they practically never decide to do, prosecute someone for fraud or bad business practices in the absence of any statutes enumerating standards of conduct and penalties for non-compliance. (See NOTE #2 below)
The Hurtibise article references a RICO action filed by Heritage Insurance Company against sibling water mitigators Angelica Sigler and her brother Albert. According to the suit they are owners to varying degrees of Moisture Rid, Inc. and Water Dryout, LLC—firms that have allegedly taken funds from Heritage and "the Florida homeowner's industry."  Funds "stolen or wrongfully obtained…through submissions of multiple fraudulent, falsified and unlawful claims seeking reimbursement for services that were fraudulently submitted, phony, duplicative, unlawful, and otherwise in violation of state and federal law."
It's a mouthful and at this point just an accusation—one you can and should read here.  When you do, look closely at the "visual examples" illustrating "the altering and tampering" of documents. You'll find these on page 5, 10, 11 and 12. I'm no expert, but the alleged forgeries appear so overtly amateurish as to raise the question of whether anyone really cared if they were caught. After all, why should they care? In the absence of this RICO suit from Heritage along with no regulation, there's nothing to lose.
Besides, lacking fear of detection or prosecution may not be the definitive question here.  For example, how many others are behaving similar to the way the Sigler firms are alleged to have been behaving? And why have they been allowed to behave so badly, for so long?
"How badly?" you ask.
Let's take a look at Angelica Sigler. In 2015, while working for an insurance agency, she was arrested and charged with one count of Organized Fraud, a second degree felony, and 34 counts of Grand Theft, a 3rd degree felony.  Merely opening the mail allegedly allowed her to almost ruin the lives of those giving her a fresh start–which she did by stealing 191 premium checks totaling $106,369.25 and depositing them into an enterprise called Rainbow 21, LLC.  That was the allegation.
It gets worse.
Her arrest occurred while she was on probation for years of various white collar felonies, many committed while operating, get this… five water extraction firms—one of which was named in the Heritage RICO suit filed almost five years later.
A serial fraudster moving freely about, no oversight, operating five different water firms–way back when. No telling how many firms she and her brother own today. (See NOTE #3 below)
Alarmed that someone with such inclinations could operate a water firm, be left alone to perform the important work of water remediation and mold abatement in someone's home, I contacted the Florida Department of Law Enforcement (FDLE) and was given her so called "rap sheet."
IT WAS 47 PAGES LONG!  You can view her entire FDLE criminal history as of five years ago here.  Or, read my research teams lay-summary here.
The point is, if all I've found is true, if what Heritage alleges is true, this is someone who shouldn't be allowed near your home, much less inside of it when you're in the throes of a traumatic water event.
How many others are behaving similarly?
No regulation means nobody knows. To start a water mitigation business you only need a shop vac and a pickup truck–no license, no regulation, no standards, no accountability.
I can't prove this but, I believe there are hundreds of firms acting similarly or worse. No background checks were conducted. No fingerprints were taken or run. No financial or credit history was run. No exam was given.
Of course, there are good firms out there too. I've talked to many of them.  They understand what's going on and they agree that regulation is badly needed. (See NOTE #4 below)
I believe there are simply too many unregulated water extractors conspiring to create losses, inflating virtually every invoice, paying huge kickbacks, publicly adjusting without a license; and, doing the street level recruiting for those restricted from doing so like attorneys or public adjusters.
Some are downright dangerous.
Florida homeowners deserve much better.
##end##
NOTE #1: Many of the new breed of Loss Consultants who work for trial lawyers are not licensed either, but…they perform the same functions as a public adjuster. Also, many contractors and roofers, while licensed by DBPR (Department of Business & Professional Regulation) are performing functions of a public adjuster without a license to do so.
NOTE #2: Some argue that "dryers" have "drying" standards from an organization called the Institute of Inspection Cleaning and Restoration Certification or IICRC. But IICRC has no rules for avoiding conflicts of interest. No standards of conduct or fair dealings.  It simply requires those it has certified to take CE courses–a training organization that teaches the principles of drying but, does not "enforce standards".
NOTE #3: According to Florida's Division of Corporations as of my inquiry in 2016, in addition to Rainbow 21 Ms. Sigler is the manager and registered agent for: A&B Dryout, LLC; A&D Dryout, LLC; Express Dryouts, LLC; Moisture RID, Inc; and, Rapid Mitigations, LLC.
NOTE #4: One of those "good" firms is Rytech which I sought out as one I could recommend to agents trying to help their customers avoid the perils of AOB. Rytech is also endorsed by more insurers than any other water firm and, after much due diligence, the FAIA also endorsed Rytech to the agent community. To learn more about Rytech please click the logo on the right hand side of this page.
IMPORTANT: If you enjoyed this post you're invited to subscribe for automatic notifications by going to: www.johnsonstrategiesllc.com.  Enter your email address where indicated.  If you're already on the website at Johnson Strategies, LLC, go to the home page and enter your email address on the right-hand side.  Remember, you'll receive an email confirming your acceptance, so…check and clear your spam filter for notifications from Johnson Strategies, LLC.  ENJOY!
Please view "The Johnson Strategies Story"