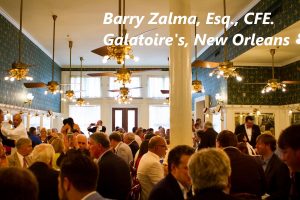 By whatever name, and for whatever reason, Florida COVID-19 cases are on the rise–temporarily perhaps, with a lower death rate for sure, but… rising none the less.
A recent verdict (August 3, 2021) regarding a New Orleans restaurant (Galatoire's pictured above) that sued its' insurer alleging a COVID infected employee contaminated the food it served, has thus become pertinent and instructive for those in Florida who sell and advise others on insurance matters.
Johnson Strategies reached out to expert and JS contributor Barry Zalma, Esq. CFE for a summary,  analysis and opinion regarding this landmark decision.

August 3, 2021–New Orleans Equity, L.L.C., the owner of two restaurants in New Orleans, moved for summary judgment on the issue of coverage for contamination of food.
Defendant U.S. Specialty Insurance Company ("USSIC") responded by also moving for a summary judgment. (In New Orleans Equity, L.L.C. v. U.S. Specialty Insurance Co., Civil Action No. 20-1935, United States District Court, E.D. Louisiana.
Background
New Orleans Equity operates two adjoining restaurants, Galatoire's Restaurant and Galatoire's 33 Bar & Steak, on Bourbon Street. One of its employees, unaware he was infected with COVID-19, continued to work, in particular on the weekend of March 13-15, 2020. As a result, the restaurant's owners alleged the employee "accidentally and extensively contaminated food, drinks, condiments, ingestible garnishes, food preparation stations, plates, silverware, glasses, cups, saltshakers, and other receptacles" at both restaurants.
Under USSIC's policy if there is an "accidental contamination" of an "insured product" as defined, business interruption losses are covered.  Additionally, USSIC's policy does not contain a COVID-19 or general virus exclusion.
But USSIC found that the restaurant's business had begun to slow because of the pandemic. On March 17, 2020, the State of Louisiana and the City of New Orleans ordered all restaurants, to stop on-location dining. USSIC found no evidence that the "insured product," had been contaminated.  Thus, it denied the claim.
Owners of Galatoire's two restaurants argued USSIC was attempting to rewrite the policy to require them to show scientific proof of contamination in the form of test results and evidence of actual illness. Further, they said the policy term "Insured Product" should be defined broadly to include not only food, but also adjacent items such as the plates and tables. USSIC agreed its' policy didn't contain a testing requirement but asserted the restauranteurs still had the burden of proving contamination.
By the terms of the policy, USSIC says that New Orleans Equity must prove that (1) an insured event occurred, (2) the event was reported to USSIC as required by the notice of incident provision, and (3) the insured event directly and solely caused a loss.
Accidental Contamination—"Seen by the Naked Eye"
On summary judgment, USSIC need only identify the absence of factual support for one or more elements essential to the Restaurants' claim. If it does so, the burden shifts to the insured to come forward with evidence establishing the element or evincing a genuine issue of material fact concerning the element.
When asked at her deposition whether there was a circumstance where "a substance that can't be seen by the naked eye [satisfied] the terms of the policy … without scientific testing, " Danielle Bouchard, the designated corporate representative of USSIC, responded: "Not that I can think of off the top of my head." But she also testified that testing was not necessarily required to prove contamination "as long as there is evidence of that contamination."
The restaurants' expert, Dr. David W.K. Acheson, states in his report that "[i]n the course of [the employee's] shifts on March 10-13, restaurant receipts show that he served 18 cocktails, 10 salads, 2 shrimp remoulade salads, 2 iced teas, and 4 cold desserts to patrons."
Therefore, if the products were contaminated, some effects would presumably be seen. But, there was no proof submitted that even a single restaurant customer got sick from exposure to these items.
When no product has been shown to be contaminated, harm to consumers was neither probable nor possible in this situation. The insured is essentially asking the Court to rewrite the policy to require a likelihood that a product is contaminated rather than a likelihood that the contaminant is dangerous. At best, New Orleans Equity (the insured) can only offer a likelihood that the infected employee (the alleged contaminator) may have contaminated insured products.
Absent any summary-judgment evidence that patrons actually contracted COVID-19, New Orleans Equity did not demonstrate accidental contamination under the policy. On the summary-judgment decision, New Orleans Equity did not carry its burden because it could not show that accidental contamination occurred.  (See NOTE #1 Bad Faith)
Summary
Although there was no virus or bacteria exclusion in the USSIC policy the insured still had to prove that the food it served had been contaminated because it was served by a waiter who had contracted COVID-19. They failed to do so and their expert was unable to say anything more than there was a possibility that customers had been infected and that some food may have been touched by droplets containing the Covid virus. The restaurants real loss was due to having been shut down and its claim, although creative, was not provable.  (See NOTE #2, Policy Interpretation)
To learn about Barry Zalma's services for insurers go here. To learn about and subscribe to Zalma's free Newsletter go here.
##end##
Note #1: Bad faith–Without a valid claim for insurance coverage, there can be no claim for statutory penalties and attorney's fees against USSIC under Louisiana Revised. Thus, New Orleans Equity's bad faith claim necessarily falls.  Summary judgment for the insurer was granted and summary judgment for the insured was denied.
Note #2, Policy interpretation: The policy is governed by Louisiana law, which is that contracts of insurance, like any other contracts, are construed according to the general rules of contract interpretation. That is, clear and unambiguous policy wording that expresses the parties' intent is enforced as written.
While the insured has the burden of proving that the circumstances constitute a covered claim, the insurer has the burden of proving that any exclusions apply.
According to the terms of the policy, "[t]he Insurer will reimburse the Insured for its Loss … caused by or resulting from any of the following Insured Events first discovered during the Policy Period and reported to the Insurer." One of the types of insured events, and the one claimed by New Orleans Equity in this case, is "Accidental Contamination."
Accidental contamination is defined as
[a]ny accidental or unintentional contamination, impairment or mislabeling of an Insured Product(s), which occurs during or as a result of its production, preparation, manufacture, packaging or distribution – provided that the use or consumption of such Insured Product(s) has resulted in or would result in clear, identifiable, internal or external visible physical symptoms of bodily injury, sickness, disease or death of any person(s), within three hundred and sixty five (365) days following such consumption or use.
An insured product is defined as:
all ingestible products for human consumption, or any of their ingredients or components, that have been reported to the Insurer on the application on file with the Insurer for the effective dates of this Policy or by addendum to such application…
New Orleans Equity (Owners) contended that their restaurants fall under the definition of insured products. It emphasizes the phrase in the definition that discusses products that have "been reported to the Insurer on the application on file with the Insurer." The USDC concluded that this strained argument ignores the beginning of the definition, however, which limits insured products to "ingestible products for human consumption … that have been reported to the Insurer on the application." Therefore, because restaurants are not ingestible products, they cannot fit within the policy definition of insured products.
Please view "The Johnson Strategies Story"
IMPORTANT: If you enjoyed this post you're invited to subscribe for automatic notifications by going to: www.johnsonstrategiesllc.com.  Enter your email address where indicated.  If you're already on the website at Johnson Strategies, LLC, go to the home page and enter your email address on the right-hand side.  Remember, you'll receive an email confirming your acceptance, so…check and clear your spam filter for notifications from Johnson Strategies, LLC.  ENJOY!