Public Adjusters appear to strongly oppose Assignment of Benefits (AOB). Like every insurer I talk to, they point to consumer mistreatment and warn claimants to avoid contracts assigning the benefits of their insurance policy to someone else.
In addition to the abuse, however, there's another reason PA's don't like AOB. It gives control of the claim to first responders whose emergency services are more desperately needed but, who won't start work without a contract assigning the proceeds of an insurance policy. As public adjuster Dick Tutwiler's blog warned, AOB can be a "…license to steal" and far too often, and far worse for PA's, it's all that's needed for unscrupulous water extractors to perform public adjusting without a license.
Again… public adjusters do not like AOB.
On the other hand public adjusters do like to get paid. Perhaps even on rare occasions when a client thinks they shouldn't be.
One Florida claimant has been emailing me for weeks; upset with a public adjuster's payment demands when, according to her, he doesn't deserve payment. And, like AOB with too many water extraction contractors, she's facing the possibility of a lien or worse.
In a lawsuit from the aftermath of Super Storm Sandy a jury ruled that, regardless of a public adjuster's contingency agreement, the claimant owes nothing if nothing was done to earn the contracted fee. Read about it in an article by Dennis Jay, Executive Director of the Coalition Against Insurance Fraud. The claimant was so angry at the PA's insistence for payment he warned others with a video on YouTube. "Don't sign with a public adjuster until after you've received a settlement offer from your insurer" he said.
Consumer groups are trending in this direction as well. In a piece titled "A public adjuster may not be your best option" C.A.R.E. states "…in most cases the amount of the work they do is not nearly worth the money they charge." And, confirming the value of the internet and programs like Florida's zero cost mediation "…all you really need to settle your claim is available for free."
This has got to be worrisome for PA's. You see, they've been arguing that even satisfied claimants, those with no dispute and little chance to increase their claim payout, still want/need their services just to help "process" the claim.
And that's the conundrum.
If PA's had the benefit of AOB they could minimize, maybe circumvent, disputes with a dissatisfied client that may think they don't deserve payment. Unfortunately, they hate AOB for what it does to consumers, and; for what it often does to public adjusters. In essence, they need what they hate!
What to do?!
Already in effect in New York, and in the works for Florida, is the concept of Direct Payment for public adjusters. Basically forcing the insurer to cut a separate check to the PA for his/her fee while issuing a claim check to the policyholder and mortgagee minus the PA fee.
Similar to AOB for water extractors, the PA gets Direct Pay authorization from the policyholder, likely in his/her retainer contract. Then, in addition to (or instead of) an invoice from a water extraction company, the insurer gets "direct billed" from the PA.
And the kicker? Once PA's secure Direct Pay for themselves they're free to join insurers in taking AOB away from everybody else.
Clever, huh?!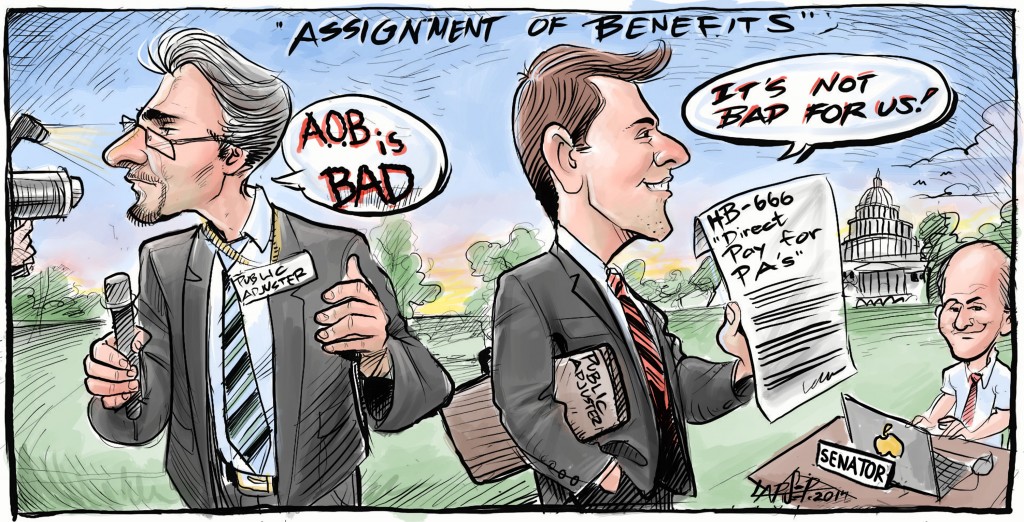 To be fair, the PA groups point to differences between AOB and Direct Pay. But to me their arguments, which you should read in full (See NOTE #1 below) sound more like distinctions than differences; especially when it comes to potential abuse by the inevitable bad player.
With Direct Payment the insured still assigns away his right to a portion of the claim payment equal to the PA's fee.  Sure, all parties; the mortgagee, the PA, the policyholder, could be listed on the separate (additional) check, too. But, the claimant has still lost control over whether the PA should be paid and how much if/when the PA doesn't perform. 
The insurer may have even less say. And, if it doesn't pay or pays too slow, then what? A lien? A lawsuit? A press conference?
Truth is, since we're talking about legislation that's not been enacted, there are a lot of missing details but, it all sounds both expensive and eerily similar to existing abuse from assignment of benefits. (See NOTE #2 below)
Again, to be fair: any statute authorizing Direct Pay could be drafted to minimize potential harm and could even include AOB reform for emergency remediators and more. But…if the goal is consumer protection, the best path is to reform AOB and avoid having to reform Direct Pay by making sure it never gets enacted in the first place. (See NOTE #3 below)
In a nutshell…
…Florida already hosts one of the most liberal "bad faith" climates. It has twice the public adjusters of other states. It lacks meaningful regulation of emergency remediators. It has rampant AOB abuse, and…our fee cap for PA's is the highest in America.
There's simply no reason to add Direct Payment for public adjusters to this already abusive and costly mix.
##end##
NOTE #1: I've inquired with all the public adjuster organizations as to what their stance may be on Direct Pay and what, if anything, they may think is different between Direct Pay for public adjusters and Assignment of Benefits for emergency remediators.
Click for available responses. Those not available at press time will be added when received.
Florida Association of Public Insurance Adjusters (FAPIA)
American Association of Public Insurance Adjusters (AAPIA)
National Association of Public Insurance Adjusters (NAPIA)  
Council of Property Claim Professionals, Inc (CPCPI)
NOTE #2: I have also contacted relevant insurer trade groups: The Florida Insurance Council (FIC), the Personal Insurance Federation of Florida (PIF) and The Property Casualty Insurer's Association of America (PCI). Each stated their organizations are opposed to the concept of Direct Payment for public adjusters.
NOTE #3: I believe a part of the motivation for PA's is the possibility of a decision in favor of SFIC in its AOB suit against OIR. See my previous blog titled "Assignment of Benefits…The Brewing Storm" in which I state that if SFIC wins "…the AOB problem conveniently and thankfully goes away." As long as the industry doesn't allow the enactment of direct pay before SFIC wins its case then: Florida will have the best of both worlds; no AOB for emergency remediators and no Direct Pay for public adjusters. If SFIC loses the case then it's up to lawmakers.
IMPORTANT: If you enjoyed this post you're invited to subscribe for automatic notifications by going to: www.johnsonstrategiesllc.com. Enter your email address where indicated. If you're already on the website at Johnson Strategies, LLC, go to the home page and enter your email address on the right hand side. Remember, you'll receive an email confirming your acceptance, so…check and clear your spam filter for notifications from Johnson Strategies, LLC. ENJOY