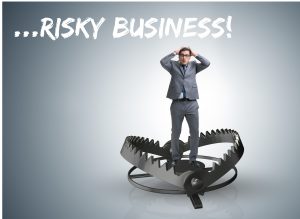 Perhaps not enough but, I've frequently said that too many Florida homeowners are not as victimized as they profess to be.  Far from being duped by those promising free roofs, remodeled kitchens, or an undeserved payday they are, too often, knowing participants in a dishonest marketing scam many call… "The Insurance Game!"
I believe, for example, that some alleged victims of the Strems Law Firm were aware they didn't have compensable damage but thought to themselves…"What the heck, I'm not the one lying, the loss consultant is!" Or, the public adjuster or the roofer or the contractor, whatever.
It usually works until the EUO (Examination Under Oath) or other sworn affidavits puts them between a rock and a hard place–choose the truth to avoid perjury and you're admitting to insurance fraud. (See NOTE #1 below)
Late last month Jennifer Mezadieu learned she'd lost her suit against SafePoint Insurance Company and her claim, legitimate or not, would not be paid because she signed off on an estimate from Contender Claim Consultants, (a frequent subcontractor for the Strems Law Firm) and the estimate contained "material false statements." (See NOTE #2 below)
JS contributor, Barry Zalma (See NOTE #5), was consulted on this case, the details of which are quite instructive.  Agents in particular should keep it handy for policyholders who are increasingly being pushed to play the "Insurance Game" by non-licensed loss consultants, roofers and public adjusters.
But, there's more here. Lawmakers should take note of the opinions at the end pointing to the need to remove incentives for suits such as this to be filed in the first place. No wonder Florida is approaching 100,000 property insurance lawsuits by year end 2021 when even the admission of fraud doesn't dissuade a suit from being filed and pursued for 5 years.
__________________
False Statement by "Consultant" Adopted by Insured is Fraud
By Barry Zalma, Esq., CFE

On February 25, 2016, Jennifer Mezadieu filed a  claim with SafePoint Insurance Company alleging her residence suffered a water leak in the second-floor bathroom and that Contender Claims Consultants ("Contender") was her loss consultant.  (See the full unedited version of this case from Zalma)
SafePoint had the home inspected by an independent adjuster (also a building scientist) who said the alleged damages were from chronic moisture exposure over a minimum period of six weeks that occurred prior to the reported date of loss and was caused by a one-time leak. Mezadieu's claim was denied because SafePoint's policy excludes damages caused by "…constant or repeated seepage or leakage of water or steam . . . which occurs over a period of time."
Mezadieu sued asserting she provided SafePoint "… a damage estimate for a covered loss in the amount of $43,181.01," and that she "sustained unpaid damages in the amount of $43,181.01." She later filed the detailed, itemized estimate—prepared by Contender—with the court. The estimate sought damages for nearly every room of the house, most notably line items for replacing kitchen cabinets.
Her sworn statements were consistent with her complaint, but…when questioned about specific line items Mezadieu all but conceded it contained false statements. For example, when asked if the reported leak caused damage to the kitchen cabinets, she disclosed they had actually been damaged by a prior leak, one which she had filed a claim for with a different insurer—and that the leak at issue did not cause any damage to the kitchen cabinets.
SafePoint promptly amended its response to include an affirmative defense based on the policy's "concealment or fraud" language stating there's no coverage for an otherwise covered loss, if one or more "insureds" have: (1) Intentionally concealed or misrepresented any material fact or circumstance; (2) Engaged in fraudulent conduct; or (3) Made material false statements; relating to this insurance [whether before or after the loss.]
 Analysis–Mezadieu never sought to revise the estimate or submit a new one. At the hearing her attorney made the following concessions:
The Homeowner "has never said that she does not agree with [the] sworn proof of loss;"
the Homeowner adopted the estimate; and
the estimate should not have included $11,000 for damages to the kitchen and that it would therefore be appropriate for the trial court to grant partial summary judgment, or alternatively, strike $11,000 from the total damages claimed by the Homeowner.
At the conclusion of the hearing the court found that the uncontroverted summary judgment evidence established material false statements in the estimate. Even if Mezadieu did not intend to rely on them a showing of intent isn't required under the policy's concealment or fraud provision. (See NOTE #3 below)
Zalma Opinion–A "loss consultant" or "public insurance adjuster" usually takes an assignment of the funds the insured is to collect from the insurer due to the claim presentation. Regardless, the claim is presented by the insured and if the insured knew that the presentation by Contender was false and so testified at deposition, she has admitted that she adopted the fraudulent claim prepared by Contender and attempted to defraud her insurer. Although she may have had a legitimate claim – which is doubtful – the fraud defeated her attempt to obtain money from her insurer. (See NOTE #4 below)
Johnson Opinion—This suit was filed by the Strems law firm and is typical of the behavior described in his disbarment proceedings.  The case has been going on for more than five years. And it's still not done!  It's possible it could be appealed when returned to the trial court.  This, despite a confession of fraud which allows the claim to be denied.
As Floridians we must ask ourselves how much time, effort, money, and judicial resources have been wasted in an attempt to resolve a fraudulent claim? This is far too typical of what happens in Florida, where the firm, not the insured, pursues the case financially incentivized to do so by attorney fee statutes and multipliers.
Lawmakers should take note and adopt the Texas style tort reforms in SB-76 as recommended by Insurance Commissioner Altmaier.
##end##
Note #1: Here's Florida Law regarding insurance fraud:
Fs. 817.234– False and fraudulent insurance claims. (1)(a) A person commits insurance fraud punishable as provided in subsection (11) if that person, with the intent to injure, defraud, or deceive any insurer:
Presents or causes to be presented any written or oral statement as part of, or in support of, a claim for payment or other benefit pursuant to an insurance policy or a health maintenance organization subscriber or provider contract, knowing that such statement contains any false, incomplete, or misleading information concerning any fact or thing material to such claim;
Prepares or makes any written or oral statement that is intended to be presented to any insurer in connection with, or in support of, any claim for payment or other benefit pursuant to an insurance policy or a health maintenance organization subscriber or provider contract, knowing that such statement contains any false, incomplete, or misleading information concerning any fact or thing material to such claim; or
Knowingly presents, causes to be presented, or prepares or makes with knowledge or belief that it will be presented to any insurer, purported insurer, servicing corporation, insurance broker, or insurance agent, or any employee or agent thereof, any false, incomplete, or misleading information or written or oral statement as part of, or in support of, an application for the issuance of, or the rating of, any insurance policy, or a health maintenance organization subscriber or provider contract; or
See DFS fraud page here.
Note #2:  Zalma's case summary–Jennifer Mezadieu ("the Homeowner") appeals the trial court's entry of final summary judgement in favor of SafePoint Insurance Company ("SafePoint") in her breach of contract action. The trial court entered final summary judgment pursuant to the policy's "concealment or fraud" provision after determining that the repair estimate prepared by the Homeowner's loss consultant included material false statements. In Jennifer Mezadieu v. SafePoint Insurance Company, No. 4D20-2, District Court Of Appeal Of The State Of Florida Fourth District (March 26, 2021) the court sought to be excused from her reliance on the consultant and adoption of the false estimate. On appeal, the Homeowner argued that summary judgment was improper because issues of material fact remained as to whether:
the estimate contained false statements;
the false statements were material; and
the Homeowner intended to rely on the false statements.
Note #3: In Universal Property & Casualty Insurance Co. v. Johnson, 114 So. 3d 1031, 1036 (Fla. 1st DCA 2013). the court analyzed the same "concealment or fraud" clause, albeit in the context of a false statement made on an insurance application, and held that the material false statement need not be intentional. In so holding, the Johnson court explained that "given the language of subsection [(1)], subsection [(3)] would be superfluous if a 'false statement' under [(3)] included only intentionally false statements."
Note #4: It's just my layman's opinion, but…keep in mind, Mezadieu was faced, as all plaintiff's potentially are, with an examination under oath which carries with it the potential of penalties for perjury or obstruction. She wisely told the truth because to do otherwise is "risky business" indeed. The question I have is whether or not the homeowner or the loss consultant, both of whom appear, in my layman's opinion, to have violated Fs. 817.234-false and fraudulent insurance claims, will be prosecuted.  I doubt they will and believe this to be another example of the big dog having no teeth!  The question for the insurance industry is how many times this happens because the allegedly guilty parties believe they will not be prosecuted or just receive a slap on the wrist.
Note #5: Barry Zalma has more than 53 years as a claims person and insurance coverage attorney who has advised insurers on claims handling and coverage interpretations. He provides expert testimony on insurance policy language, insurance bad faith, insurance claims handling and is a nationally recognized expert on insurance fraud matters.  To learn about and subscribe to Zalma's free Newsletter go here.
IMPORTANT: If you enjoyed this post you're invited to subscribe for automatic notifications by going to: www.johnsonstrategiesllc.com.  Enter your email address where indicated.  If you're already on the website at Johnson Strategies, LLC, go to the home page and enter your email address on the right-hand side.  Remember, you'll receive an email confirming your acceptance, so…check and clear your spam filter for notifications from Johnson Strategies, LLC.  ENJOY!
Please view "The Johnson Strategies Story"