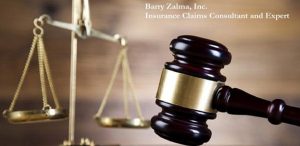 With insurance fraud on the rise around the country and particularly in Florida, Johnson Strategies reached out to Barry Zalma for some thoughts and opinions which he summarizes in this true crime account titled: "The Largest Residential Burglary of All Time."
      ________________
THE LARGEST RESIDENTIAL BURGLARY OF ALL TIME

After twelve months trying to get insurance on over $3,000,000 in jewelry and a like amount of fine arts, a Taiwanese man who was a wanted criminal in his own country convinced two American insurers to agree to insure him against the risk of loss to the contents of his home.
To obtain the insurance he concealed from the American insurers that he was, at the time he purchased the insurance: an alien a court had ordered deported; that in his home country he was a wanted criminal; that he had left his home country with over $60,000,000.00 in checks unpaid; that every insurer at Lloyd's had refused to insure him; that all of his property was appraised for more than twice its actual retail replacement value; and that most of the antiques he had insured in reliance on an "appraisal" attesting to a $3,500,000 value, were fakes.
His application gave the impression that he was a Beverly Hills investor with appropriate concerns for security. He also made it clear that he was willing to pay a high premium for the protection, a fact that should have raised the concern of the underwriters asked to accept the risk of loss of his property.
Within seven days of the delivery of his policy, a "burglary" was reported. A total of $7,000,000.00 of specifically identified and scheduled personal property was reported stolen. He claimed an additional $2,000,000 in unscheduled diamonds were stolen from their hiding place in one of his 50 suit coats hanging in the closet.
The burglars had no problem effecting the burglary because the Insured was out of town. The burglars circumvented, what the insurers were told was a sophisticated central station alarm system, because it was merely a local gong type alarm that had never been turned on. They defeated the promised class E safe (one that requires at least 30 minutes to drill out the lock) with a simple wood drill since the actual safe was nothing more than a locking gun cabinet built into a closet.
Regardless of the available evidence of fraud the insurers, against the advice of counsel, paid $4,000,000 to avoid trial.
The insured moved to Costa Rica, changed his first name to Juan and eventually opened a bed and breakfast.  (See Note #1 below)
Epilogue: Once an insurer gets a reputation for paying for fraudulent claims rather than fighting with all of its assets, those who perpetrate fraudulent claims will gather like vultures over a rotting carcass ready to pick the bones clean. The reverse is also true: when an insurer makes it clear it will never pay a fraudulent claim, regardless of cost, those who earn their living by fraud will stay away.
It is time that prosecutors learn that the victim is not the giant insurance company but each and every person who buys insurance.
##end##
NOTE #1: this story was adapted from a chapter in Barry Zalma's book "Insurance Fraud Hurts Everyone."  Including the details behind this case and the rationale behind the insurers decision to settle, the book includes 85 true crime stories of insurance fraud from Zalma's amazing 53 year career as an insurance claims person and insurance coverage lawyer. "Insurance Fraud Hurts Everyone" is available at Amazon.com. You can learn of Zalma's offerings at www.zalma.com or contact Mr. Zalma directly at: zalma@zalma.com
Please view "The Johnson Strategies Story"
IMPORTANT: If you enjoyed this post you're invited to subscribe for automatic notifications by going to: www.johnsonstrategiesllc.com.  Enter your email address where indicated.  If you're already on the website at Johnson Strategies, LLC, go to the home page and enter your email address on the right-hand side.  Remember, you'll receive an email confirming your acceptance, so…check and clear your spam filter for notifications from Johnson Strategies, LLC.  ENJOY!