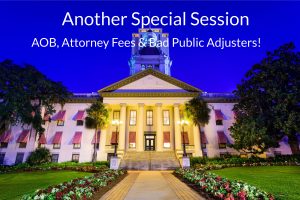 The obvious question is whether lawmakers will finally do what's necessary to stop Florida's epidemic of fraud and abusive litigation—a query spawned by previous reforms that appeased powerful abusers with halfway measures, some of which were (and still are) being litigated.
No need to belabor here unimpeachable data on property insurance lawsuits and the resulting premium increases.  This blogsite has many articles and docs on both the damage done and the cause of the damage (See Library tab &/or use Search bar).
Despite Florida having the highest residential premiums in the world, it's also a world leader in insolvencies. Six Florida property insurers have failed just this year, nine in less than two years–all from greed dispersed among roughly 25 law firms and an army of 3rd party recruiters and way too many Public Adjusters. (See Note#1 below) All this before either Hurricane Ian or Nicole struck 43 days apart following identical paths to that of Jeanne and Charley in 2004, also 43 days apart. (What are the chances?)
Only a few at the top of Florida's legislative pyramid know exactly what lawmakers will do on the prevailing issues; one-way attorney fees, Assignment of Benefits (AOB) and Public Adjusters. Likewise, on whether it'll all be done during the Special Session, (early in December, probably the 12th) or partially left for the 2023 regular session.
Either way it seems certain lawmakers will eliminate lawsuit abuse by prohibiting AOB's or one-way attorney fees or both.  When done, a giant step.  There are other proposals on the block that we'll look at in more detail in a future article.
It seems clear, at this point, that Public Adjusters (PA's) are also in the cross hairs. PA's are omnipresent and after two storms are having a field day carpetbagging confused and traumatized claimants.
One media report revealed that 50 different PA firms were onsite within days of Ian's departure, moving from neighborhood to neighborhood, soliciting signatures door-to-door and leaving flyers for those who evacuated.  After visiting the area CFO Patronis confirmed "… there are bad public adjusters swarming impacted areas, soliciting, and trying to make a quick buck.  They are promising to help while betraying the trust of people who have lost everything."   
Almost as bad are the online solicitations PA's and Plaintiff firms use to circumvent the CFO's plea for policyholders to report any claim to their insurer or agent first "…and don't sign anything until you do." 
Public Adjusters and trial lawyer ads appear "above the fold" on Google's first page.  According to Guy Fraker (See Note #2 below) "State Farm, Travelers, Progressive, United P&C, Allstate, and Citizens Property & Casualty Insurer have all appeared among the purchased ad words and search phrases acquired by plaintiff firms, public adjusters and contractors."  This leaves policyholders in the lurch wondering why they haven't heard from their insurer.  So, they call the state Consumer Complaint Line  or seek help from a nearby Insurance Village on how to get out of their PA contract.
Good news is lawmakers appear willing to address the issue.  In addition to the Governor and CFO, both House and Senate leaders have pledged they are "Ready, willing and able" to get the job done.  But, unlike frivolous litigation the solutions aren't as obvious for Public Adjusters.
Everyone I've talked to agrees that repealing the "one-way attorney fee" statute and/or prohibiting AOB's addresses the frivolous litigation, to a large degree.  That's good.  But it won't keep down the obnoxious door knocking of roofers and the abuse of Public Adjusters.  Despite the reforms from the first special session, both will continue to enjoy protections afforded by the 1st amendment, I predict  (See Note #3 below)
Therefore, I have a few suggestions for lawmakers regarding Public Adjuster reforms:
In the opinion of many, there is no need for "non-resident" public adjusters. The license (Fs. 626.8582) should be eliminated and PA's from other states should be prohibited from practicing in Florida… whether there's a hurricane or not. Frankly, this might be the first of my idea's that Florida's 1400 or so resident PA's might like.  I've spoken to no one that opposes the idea of eliminating non-resident PA's.
Along with many others I believe it is bad public policy to pay Public Adjusters based on a percentage of a claim payment. According to testimony of those who represent Public Adjusters a percentage of, say… 20% (Florida's cap) is an inducement to illegally inflate the claim or to "create a claim where one otherwise did not exist."  The law should be changed to require that PA's charge a reasonable hourly rate and let competition determine how much that rate is.  (See Note #4 below)
Finally, I propose that the Speaker of the House and the President of the Senate immediately appoint a bi-partisan joint panel to study whether Florida should continue to utilize its' current system of Public Adjusters. Some other states prohibit Public Adjusters.  Why shouldn't Florida investigate whether it should do the same?
If we did away with Public Adjusting, policyholders with disputes would likely get paid more quickly. This, according to a state sponsored study revealing that using a Public Adjuster delays the claim payment up to 9 months. (See Note #5 below)
Public Adjusting is considered the practice of law without a license in at least one other nearby state.  Policyholders there don't have to forfeit 20% of their claim payment (10% after hurricanes) to rebuild after a loss–they get 100% of their claim payment by using an attorney whose fees are paid by the insurer.  Florida policyholders would also have access to free mediation for disputed claim amounts.  And again, mediation is paid by the insurer.
Overall, it's a sound consumer-centric approach that works where it's applied. Florida ought to at least examine whether it could also work here.
Stay tuned for my next report which will focus on two other law changes that will help Florida return to normalcy.
##end##
Note #1:  Florida has 80% of America's property insurance lawsuits but has only 8% of the claims. Every other state averages less than 1,000 property lawsuits annually. Florida had 130,000 property lawsuits just last year. See "State Insurance Market Badly Needs an Oil Change" by Kevin Comerer.  In addition to providing a good summary of how Florida's property market got so bad, Comerer's article asks the following questions:
How could nine insurance companies go bankrupt in less than two years?
Why have rates tripled, on average, for every homeowner?
What caused the state-backed Citizens Property Insurance Corp. to grow from an all-time low of 420,000 policyholders to more than 1 million — and heading for 2 million?
Note #2: I received information from Guy Fraker, Principal IE Advisory, Cre8tFutures, Adjunct Scholar James Madison Institute (JMI), stating that "State Farm, Travelers, Progressive, United P&C, Allstate, and Citizens Property & Casualty Insurer have all appeared among the purchased ad words and search phrases acquired by plaintiff firms, public adjusters and contractors. While marketing teams in many insurers 'buy' 300 to 1300 words monthly, we found 1 plaintiff firm who spends between $756K and $1.1M monthly on 86,000+ words."  
Note #3: See Summary of reforms from the May Special Session 2022.
Note #4: When I researched PA laws in other states a few years ago I found 14 states had fee caps for PA's. Florida's 20% cap was (and is) among the highest.  At the time Alabama did not allow Public Adjusting as it was considered to be the unlicensed practice of law.  Also at the time, Louisiana prohibited PA's from charging a percentage of the claim. Listen to legislative testimony from Public Adjuster representatives (NAPIA and NJPIA) regarding fraud incentives from contingency fees here.
Note #5:  According to a Citizens study and a report by the Office of Program Policy Analysis & Government Accountability (OPAGGA)… "As shown in the exhibit, when public adjusters represented policyholders, claims processing typically took between 132 to 296 days longer than claims without public adjuster representation."  See page 6 "Citizens claims with public adjuster involvement took longer to close."
_________________________________________
Please view "The Johnson Strategies Story"
IMPORTANT: If you enjoyed this post, you're invited to subscribe for automatic notifications by going to: www.johnsonstrategiesllc.com.  Enter your email address where indicated.  If you're already on the website at Johnson Strategies, LLC, go to the home page and enter your email address on the right-hand side.  Remember, you'll receive an email confirming your acceptance, so…check and clear your spam filter for notifications from Johnson Strategies, LLC.  ENJOY!