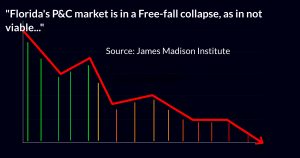 Lawmakers, please be aware…Florida's domestic property insurers are losing money hand over fist!
2020 financials are in and tallied. Some "scary" Florida domestic numbers just came out from  Guy Carpenter, and Net Underwriting Losses have been published by S&P Global Market Intelligence.  Meanwhile, Demotech affirmed existing ratings for 22 carriers and demurred on a few others via its' press release.  This, as prelude to its' final ratings update due March 19.
AM Best just downgraded American Capital Assurance Corp from A- (Excellent) to C (weak).  (See Recent Rating Activity)
These happenings are testament to the predictions made by Adjunct Scholar, Guy Fraker with the James Madison Institute who, after his own analysis, concluded…
"Florida's P&C market is in a free-fall collapse, as in not viable, requiring multiple legislative solutions from this 2021 session."  
There is no equivocation in the words "free-fall collapse."  No mincing of data.
Any legislative response needs to be equally resolute. Companion proposals SB-76 and HB-305 must receive open debate on the floor of both chambers.  Legislative leaders from both parties need to get behind the reforms–not just to facilitate analysis but also for constituents who will demand responsibility for the massive sticker shock that still hasn't fully materialized.
Most have heard that dozens of carriers filed for double-digit increases, one as high as 47%. But, over one hundred total have also been approved by OIR for a market it calls "one of the most complex in the world." And the carriers "…are still losing money" according to the Federal Association of Insurance Reform (FAIR). In fact, if it were not for the rate increases there would be few carriers, if any, still standing in my opinion.  (See; Florida Regulator approves nearly 100 insurance rate increases)
But this bad news is the best part of the real story on rate increases.
Nothing prohibits carriers from filing more than one annual increase.  Some have filed 7 or 8 in less than 12 months, as they should, to reduce sticker shock and other reasons.  But, this doesn't show up in most media accounts.  In a letter from the President & CEO of Security First to the Chairman of the House Commerce Committee, Locke Burt says three of Florida's largest carriers, including his own, were granted approval for a total of 19 rate increases in less than a year impacting hundreds of thousands of policyholders.  The cumulative impact, lumped in with media words like "double-digit", is in excess of 50% and 58% for two of the carriers and 80.4% for the other.  (See Letter to Commerce Committee).
Lawmakers Note: the laws you implement require insurers to file for these increases and they require the OIR to approve them.  Nobody can stop hurricanes.  Only "you" can stop the fraud and frivolous litigation that annually impact the system more than a Cat-4 storm.
As for fraud, in the the last six years the referrals have rocketed 130%.  Sure, there were a few arrests, and that's good, but the time to prosecute is so distended it allows hundreds, maybe thousands, more victims.
Case on Point:
"Carlson Enterprises, LLC., a roofing contractor, was first reported to the Division of Insurance Fraud in 2011. The State of Florida did not seem to take much notice of the company until a TV station in Jacksonville ran a story on Carlson in 2017. After receiving 72 complaints from consumers, the Attorney General filed a lawsuit against the company. It was not until 2019 that the owners of the company were arrested. Prosecutors in Duval County identified 43 cases where the company took deposits for roof repairs or replacements and never completed any work. Prosecutors in Volusia County identified 58 cases between 2016 and 2018 where the company took deposits for roof repairs and did no work. Prosecutors identified another 15 cases where subcontractors completed roof repairs and were never paid by Carlson."   
Lawmakers need to give DFS "the teeth" to stop fraudulent solicitation of insurance claims and put a clamp on consumer mistreatment by roofers, water firms, contractors, and others. (See, Public Adjusting-NO LICENSE?)
Underwriting Losses? This is where one CEO used the word "scary!"
According to S & P Market Intelligence data just released, 10 companies received over $20 million in either new capital or expense reductions from their affiliated MGA to maintain their capital and surplus to sustain, for now, their Demotech rating.  The total loss for just these top 10 carriers is $458 million.
Look again. You'll notice a few gave no report. Data was simply "not available" according to S & P Global Market Intelligence.  Why did they miss the deadline and what is Demotech going  to do with companies other than the 22 it affirmed as A rated on March 5th (See Demotech News Release)?  This won't be known perhaps until March 19, possibly a day of reckoning.
Folks…the financial news is really, really bad!
Trial lawyers, roofers, contractors, and other advantage takers are, of course, blaming the litigation, even the fraud, on insurers who don't pay their claims.  They have no data. Heck, they don't even attempt to refute the numbers that show they're allegations are baseless. They just want what they want.
Besides, how do insurers lose all this money if they aren't paying claims as alleged? And why would carriers accused of being greedy not pay claims when doing so costs even more in litigation expense?
Doesn't add up, does it?
Stay tuned, as I'm sad to say, there's likely more bad news coming.
##end##
Please view "The Johnson Strategies Story"
IMPORTANT: If you enjoyed this post you're invited to subscribe for automatic notifications by going to: www.johnsonstrategiesllc.com.  Enter your email address where indicated.  If you're already on the website at Johnson Strategies, LLC, go to the home page and enter your email address on the right-hand side.  Remember, you'll receive an email confirming your acceptance, so…check and clear your spam filter for notifications from Johnson Strategies, LLC.  ENJOY!