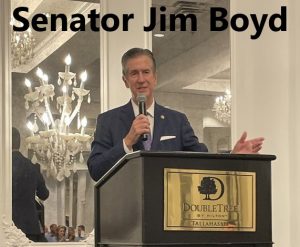 Lead by nearly 200 agents attending FAIA's "Capitol Days", Florida's insurance industry converged in Tallahassee last week.
Agents have become the front line for Florida's dreadful property market, absorbing consumer shrapnel like I've not seen in my 45 years dealing with such matters.  Along with many others, they appear quite fed up–their presence punctuated with placards exclaiming "There's No Such Thing as a Free Roof!" and, my favorite…an airplane circling above towing a banner saying the same thing.
This article is about two important provisions contained in rate relief bill SB-1728, by Senator Jim Boyd (R-Bradenton.).  Boyd's bill  passed out of the committee he chairs, (Senate Banking & Insurance) Wednesday, February 2nd by a vote of 9 to 2.  But, it has a long road ahead and no companion bill in the House.
Provision number one–That some lawmakers, particularly those from Southeast Florida, seem hesitant to simply doorstop attorney abuse and say "no" to a cadre of noisy roofers intent on getting around the law, is confusing to me.  It is, after all, voters in Southeast Florida who already pay the highest premiums in the US, who will pay even more if pending rate increases (some as high as 111%) are approved. (See NOTE #1 below)
Worst of all, such increases are needed to stave off insolvencies while continuing to fuel a money pot trial lawyers have exploited for nearly a decade.  Evidence shows only around 8% of the average litigated claim dollar reaches homeowners who file claims. (See NOTE #2 below). One carrier reported to me that, after the passage of SB-76, a trial lawyer offered to settle hundreds of pending suits by slashing each policyholder's indemnity to just $1,000.  This disgusting offer was not made out of concern for what each homeowner deserved or needed—rather it was a transparent attempt to get attorney fees at the expense of the client homeowner who, I'm sad to say, would've been none the wiser.
At the risk of sounding despondent… I'm not sure there's any reform language that could permanently defeat such unabashed greed.  But, SB-1728 attempts to get at the roofers with language regarding advertising and solicitation and fraud. It replaces restrictions in last session's SB 76 reform law that was overturned by a federal judge on freedom of speech grounds.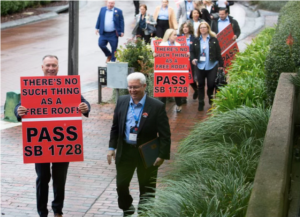 Also, roofers knock on doors to benefit themselves, of course.  But they also do it because they're in cahoots with a trial attorney willing to not only file a frivolous suit on their behalf but, to share the proceeds with the roofer or Public Adjuster who brought them the business in the first place.  Other bills help address this as well. (See NOTE #3 below)
Result? Current projections have Citizens policy count as high as 1.3 million by year end 2022.
Provision number two—This one speaks for itself and needs to be done.  But… it's also another example of how policyholders in Florida fair compared to those in every other state where only 730 property lawsuits are filed each year on average versus Florida's annual count approaching 100,000.
The removal of the "ACV on roof's" portion of last year's SB-76 is largely why so many insurers are still bathing in red ink.  SB-1728 puts back the language allowing insurers to offer Actual Cash Value for roofs older than 10 years rather than non-renewing as they are now.  This will not only reduce the need for double-digit rate increases but, will also reduce the incentive for many roofers to behave as they have been.
At the time this is being written Senator Boyd's SB-1728 has passed out of the Senate the Banking & Insurance Committee and is on its way to other stops in the Senate, where I'm betting it will pass. The real question is what will the House do (this year) when SB-1728 arrives there?  Hopefully not what it did last year to SB-76.
Policyholders, particularly those in Southeast Florida, deserve better.
##end##
NOTE #1: On Friday, January 21, 2022, the Office of Insurance Regulation (OIR) conducted three public rate hearings: Southern Fidelity Insurance Company (SFIC), Cypress Property & Casualty Insurance Company, and Centauri Specialty Insurance Company.   For the Dwelling Fire policy form, SFIC requested rate relief for DP-1 basic of 61.8 percent and DP-3 of 118.2 percent, for a statewide average of 111.1 percent.  The types of claims driving these trends are from roofs, non-weather water, and attorney, roofer and/or public adjuster representation leading to litigation.
NOTE #2: According to data from the OIR, between 2003 and 2020, Florida's property insurers paid out fifteen billion ($15,000,000) in claims costs. Only eight percent (8%) of that amount was paid to consumers. Seventy one percent (71%) was paid to attorneys.
NOTE #3: I'll be covering more on this in a subsequent article, but…HB 749 and SB-1292 by Rep. Chuck Clemons (R-Newberry) and Senator Joe Gruters (R-Sarasota) respectively, have provisions that: 1.) expand the existing $10,000 fine for contractors or unlicensed persons acting on their behalf who solicit or incentivize a residential property owner to file a roof damage insurance claim or receive a paid referral from insurance proceeds to $20,000 if the violations occur during a declared state of emergency; and 2.) entitle insurance companies that are victims of false and fraudulent insurance claims to recover investigation and litigation expenses, including attorney fees, when they have reported the possible fraud to the Department of Financial Services Division of Investigative and Forensic Services and the accused has been found guilty.
There are also numerous provisions in HB 959 and SB 1874 by Rep. Chip LaMarca (R-Broward) and Senator Jim Boyd (R-Bradenton) respectively that tighten the rules on public adjusters, namely…
A new provision which states that compensation paid to a public adjuster may not be increased based on a claim being resolved by litigation.
Require that adjusting firms seeking licensure include the name and license number of the designated primary adjuster who is responsible for adjusters at each business location, and requires fingerprints for background checks of the owner(s) as well as corporate officers and directors;
Require that an applicant for licensure as a public adjuster must have been licensed and appointed in Florida as a non-resident public adjuster, or as an all-lines adjuster, on a continual basis, during the six months prior to application;
Amend the definition of "public adjuster apprentice" to state that such apprentice must be employed by a public adjusting firm, rather than employed by a public adjuster;
Require that a $50,000 bond posted by each public adjuster apprentice remain in effect for one year after termination of the public adjuster apprentice license, and requires that the public adjusting firm provide DFS with notice of the primary adjuster who responsible for the supervision of all adjusters at the firm's location;
Require that the $50,000 bond posted by each nonresident public adjuster must remain in effect for one year following the expiration or termination of the public adjuster license, and also makes changes to comply with federal law related to the use of fingerprints in national background checks, discussed above.
Please view "The Johnson Strategies Story"
IMPORTANT: If you enjoyed this post you're invited to subscribe for automatic notifications by going to: www.johnsonstrategiesllc.com.  Enter your email address where indicated.  If you're already on the website at Johnson Strategies, LLC, go to the home page and enter your email address on the right-hand side.  Remember, you'll receive an email confirming your acceptance, so…check and clear your spam filter for notifications from Johnson Strategies, LLC.  ENJOY!