Most of my subscribers know that Jeff Grady, President and CEO of the Florida Association of Insurance Agents (FAIA), recently retired.  Deserved accolades have circulated; well-earned awards have been presented.
Listed below are some of Jeff's accomplishments and recent acknowledgements–this, so you can know a little more of what FAIA's volunteer leaders and myself know about his tenure at America's best agents association.
You may also know I worked at FAIA for 37 years and was on retainer after my retirement for another nine–a total of 46 years at FAIA. The last 12 years before my retirement, I felt honored to work for Jeff as his Executive Vice President.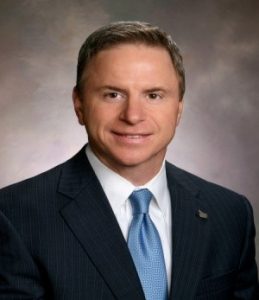 That Jeff's departure is a loss, no one questions, both for FAIA and for the industry.  He's a once-in-a-lifetime discovery within the non-profit trade association community; acumen and personality being just two of the many reasons.
However, and without belaboring that which is obvious and previously stated, I'd like to share my  personal appraisal of the captain who not only turned the boat around but, guided it full speed to new ports of call.
While at FAIA I worked for five different Presidents:  Tom Johnson (my father), Bob Treweek, Buddy McCue, myself as acting President and Jeff Grady.  Other than Jeff Grady and his successor, Kyle Ulrich, no one knows what the job entails better than I do.
It's appropriate to say that I found Jeff Grady to be the embodiment of what's necessary to run any organization, profit or non-profit—but especially the FAIA. He's the best I've ever worked for at FAIA, including my father who was no slouch. Jeff brought to FAIA a distinctive loyalty—not to a job, but… loyalty to independent agents as individuals and collectively as part of a unique system of insurance delivery. He defended that system and fought for its' individual members without ever being specifically told to do so. It was instinctive and performed with an affable, sometimes self-effacing manner that not only endeared him to the home crowd but earned respect from those who would bring harm to it.
I suspect his final chapter is far from written.  I also believe it's testamentary for his departure to spawn the perfect replacement. Kyle Ulrich shined the first day he came in the door.  Jeff Grady noticed it right off. He told me so. And then he began doing what was necessary to prepare Kyle for this day.
To one of my best friends I'd like to say "thanks Jeff, for all the things you did for me!"  And thanks for all the great things you've done for agents and FAIA (so far)… and for the unselfish manner in which you did them!
You made a colossal difference!
##end##
See Jeff Grady's biography here.
See the Insurance Journal's tribute "FAIA Chief Grady Says Goodbye, Shares Top Moments in 22-year Career."
For Jeff's thoughts and some comments from FAIA members and friends see: For Those Who Prefer Long Goodbyes—Part 3: The Pursuit.
To learn about the Jeff Grady FSU Scholarship, go here.
For an audio recording of Jeff's final board meeting, where he speaks of his term in office, receives his parting gift, speaks of Kyle Ulrich's ascension and shares his personal thoughts before receiving a surprise presentation of the Mitchell Stallings award and the Jeff Grady scholarship, click  Audio link
IMPORTANT: If you enjoyed this post you're invited to subscribe for automatic notifications by going to: www.johnsonstrategiesllc.com.  Enter your email address where indicated.  If you're already on the website at Johnson Strategies, LLC, go to the home page and enter your email address on the right-hand side.  Remember, you'll receive an email confirming your acceptance, so…check and clear your spam filter for notifications from Johnson Strategies, LLC.  ENJOY!