Let's start 2016 with some of the good news regarding AOB abuse. While the "parade of horribles" continues to worsen, there have been some hopeful occurrences on the reform front.
First example: Senator Dorothy Hukill's AOB reform bill, SB-596, improves on last sessions' mixed bag. Some don't give it, or its' house companion (HB-1097) much of a chance but, who really knows? Besides, there appears to be substantial support for Senator Diaz de la Portilla's SB-1248. It bans kickbacks (referral fee's) for repair services or remediation work covered by insurance. The fine it proposes? A not too shabby $10,000 per violation!
Next, there's some good news on the "tipping point." Remember my previous blog titled "The Tipping Point Is Here"–about the water extractor spokesman renouncing the use of AOB by water extractors? Remember also that Florida's roofing trade group (FRSA) testified that AOB is not only bad but, it should be done away with altogether.
Now it seems public adjusters are stepping up via The Council of Property Claim Professionals, Inc (CPCPI) which put together a white paper endorsing Senator Hukill's bill. It said, among other things, SB-596 was a "…measured and considered approach" to solving the AOB problem. You can read CPCPI's white paper here. (See Note #1 below).
And, believe it or not, there's hopeful news from the courtroom.
Despite prior rulings that only the legislature can do so, a new strain of cases is encouraging some to believe the courts just "might" be able to solve the AOB problem, or at least a substantial portion of it.
It seems lower courts have granted summary judgment to insurers who alleged that AOB interferes with the state constitutions' homestead exemption clause. This new, very compelling line of reasoning, was delivered in oral arguments to the troublesome 4th DCA on December 15th, 2015. Learn the nuances of the argument in an article by Cristina Cambo (Rumberger, Coke & Caldwell) here. Point is, if the 4th DCA rules as it could (and should) it's possible at least some AOB abuse will abate without the involvement of lawmakers. (See Note # 2 below).
Then there's the media.
While the southeast papers unabashedly ignore the "parade of horribles" and the facts plainly presented by Citizens CEO, Barry Gilway, and others, there are still some signs the media may be grasping what's going on.
In addition to a handful of articles and TV reports shared on these pages, Channel 10 reporter Christina Vazquez's piece was another example. Both the written account and the on-air version were sub-titled "Local 10 News viewer says insurance claims wrongfully denied". But… the main title appeared in big block letters and struck at the heart of the problem: "Be wary when signing assignment of benefits." Watch the video here. Read the written report by Judy Reich, here.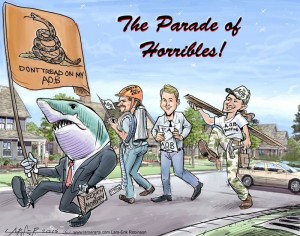 click to enlarge
Finally, there's a characteristically incisive article published by Forbes magazine (Fraud Pushing Up Premiums In Florida) and written by Steve Pociask president and CEO of the American Consumer Institute (ACI). It not only urges passage of SB-596, but it says "…While most consumers are treading water, these contractors and attorneys are getting rich".
According to Pociask AOB will soon become Florida's next billion-a-year fraud.
Pociask:
…the number of AOB lawsuits involving residential properties increased from 70 in 2009 to more than 2,000 in 2014—about a 3,000% (that's not a typo) increase over the years, which represents an astounding average compound growth rate of nearly 100% per year. In comparison, real U.S. per capita income grew at a compound average growth rate of 0.6% per year, according to the U.S. Census. On its current track, if not stopped, this fraud will soon become a billion dollar per year business.
Next up…the bad news, including more conspiracies between PA's, attorneys, water extractors and roofers.
Happy New Year!
##end##
NOTE #1: I learned that CPCPI was made up of former presidents of the Florida Association of Public Insurance Adjusters (FAPIA) who demurred on enough issues to prompt the formation of a separate organization. I've communicated on several occasions with its leadership including Ray Altieri. One notable occurrence was CPCPI endorsing a proposed reduction in the PA contingency fee cap from 20% to 15% (See "Fee Caps & Red Herrings"). This showed an obvious divergence from FAPIA in favor of policyholders. When I asked about the founding of CPCPI, Ray Alteiri provided a helpful explanation which you can read here.
NOTE #2: Again, read the article here. The 4th DCA case is important because it may invalidate AOBs on constitutional grounds. An affirmation of the lower court decision, according to Cristina Cambo, would be "…profound, far-reaching, and potentially applicable in thousands of pending cases throughout South Florida and the rest of the state."